Culture news
You shall go to the ball!
02.09.2007 12:18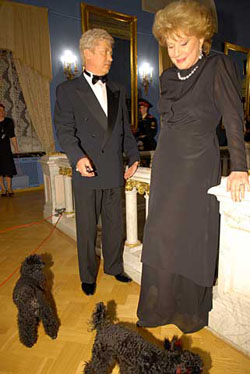 By Galina Stolyarova
Staff Writer
Photo:Alexander Belenky / The St. Petersburg Times
(Sergei Osintsev (l) and Yelena Obraztsova (r) with the opera diva's dogs Carmen and Musetta.)
The great and the good are reviving pre-Revolutionary traditions with increasingly lavish parties. Internationally renowned opera diva Yelena Obraztsova is resting leisurely in her ornate armchair, the singer's regal profile reflected in the mirror. Carmen and Musetta, two vivacious black poodles occupy two small padded stools at the singer's feet.
The singer is preparing to perform at this year's Epiphany Ball in Yusupov Palace. The ball aims to revive a pre-Revolutionary tradition of social events for the nobility.
Obraztsova, a regular with the world's most respected opera companies, is a frequent guest of such social events both at home and abroad.
"I think reviving the traditions of balls in Russia is a wonderful idea: as you prepare for a ball, get into beautiful clothes, change your mindset, get inspired, anticipate seeing friends, it plunges you in a very special mood," the diva said.
"A ball is a contrast to reality, it is a dream-like experience that grown people need no less than children need fairy tales."
Remarkably enough, Yelena Obraztsova was a guest of a private event that, despite its name Epiphany Ball, was in fact, a birthday party thrown in honor of prominent businessman Sergei Osintsev, the patron of the Suvorovsky Military Institute.
Suvorovsky cadets greeted the guests at the entrance of Yusupovsky Palace and lined up alongside the stairwell leading to the richly decorated theater, holding flaming torches.
Most contemporary St. Petersburg balls are organized by musicians. Every summer in June, the Mariinsky Theater runs its "White Nights Ball" in Catherine's Palace of Tsarskoye Selo, as part of its famous "Stars of the White Nights Festival." Well-known pianist Irina Nikitina, the director of the Musical Olympus classical music festival, hosts her Strauss Ball every year in May.
On New Year's Eve, the Yusupov Palace traditionally welcomes the guests of Yury Temirkanov's Ball, while Catherine's Palace in Tsarskoye Selo serves as host venue for the Tsar's Ball organized by the international catering company Potel&Chabot especially for foreign travelers. The balls revive Russia's musical, cultural and historical traditions, which emerged during the reign of Peter the Great when aristocrats arranged musical carnivals, masquerades, performances and shows in their family palaces. But in Russia, at balls, the time actually devoted to dancing is often very limited.
There is always a ceremonial, six- or seven-course dinner, sumptuous fireworks, varied entertainment, while the actual dancing comes to about half-an-hour.
Furthermore, in most cases professional pairs are doing the job and only a modest proportion of guests feel confident enough to join in.
"I don't understand those who treat balls like some sort of rave and go there for yet another endless chat," Obraztsova said, adding that she chooses her events carefully. "Instead of going to such tasteless and posh gatherings, I would prefer to stay at home, read a book, listen to a good recording, learn a couple of new romances or even watch a decent TV program."
But the singer appreciates the attempts to create a genuine festive atmosphere.
"It takes a talented and genuinely hospitable host but tact and understanding of the guests are equally important," she explains.
"It is crucial that nobody tries to win everyone's attention and go to all lengths to keep it until everyone goes home."
Obraztsova's opinion is shared by prominent violinist Maria Safaryants, the founder and artistic director of the "Palaces of St. Petersburg" classical music festival, who launched another tradition in June 2006, by organizing the Vienna Piano Ball in Peterhof's Grand Palace.
Safaryants believes balls and other social events should fit the refined historical interiors of palaces.
"There has to be a connection — historical, cultural, musical or artistic — an excuse to disturb the venerable walls," she said. "When a bunch of youngsters rent out a palace for a mish-mash party, it looks plain vulgar."
In Safaryants' opinion, a ball is a special event, which does not happen very often and should be memorable.
"It is like a dream which can come true, even if you are not rich: one day you will earn the money and get there."
News source: sptimes.ru


Print this news
---
Culture news archive for 09 February' 2007.
Culture news archive for February' 2007.
Culture news archive for 2007 year.