Culture news
Orchestra to play it from Russia with love
02.16.2007 18:20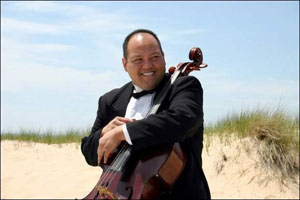 JEREMY D. BONFIGLIO
Tribune Staff Writer
Earle Perez was working on his master's degree in cello performance at the University of Notre Dame when he first tackled Pyotr Ilyich Tchaikovsky's "Rococo Variations."
"I was 21," Perez says. "The notes have come back. The technique, that has come a little slower."
On Saturday, the 37-year-old Goshen resident will revisit the demanding cello solo when the Southwest Michigan Symphony Orchestra presents "Russian Classics" at Lake Michigan College's Mendel Center Mainstage Theatre in Benton Harbor.
When conductor Robin Fountain took over last summer, he approached Perez about doing a cello solo as part of his effort to spotlight various musicians within the symphony.
"He asked if I have ever played anything Russian," Perez says. "I told him that I had done Tchaikovsky's '(Rococo) Variations' in college but that was going on 20 years ago."
When Fountain decided to include it in Saturday's program, he called on Perez to reacquaint himself with the piece.
The work was originally written for Wilhelm Fitzenhagen, a cello professor at the Moscow Conservatory, but Tchaikovsky used Mozart as his inspiration.
The "Rococo" in the title refers to the common musical term for Mozart's style-period.
It comprises a theme and seven variations, played without pause.
"Stamina has been the biggest challenge," Perez says, laughing. "The piece is 20 minutes long, and each variation focuses on a different technique. There isn't a lot of time to shake out my hands."
What he has found, however, is a renewed interest in the music.
"There are aspects coming through now that I never thought of before," Perez says. "Being young, the first time around, there's this lyricism that I've now been able to explore."
The concert will open on a rather light note with Nikolai Rimsky-Korsakov's "Flight of the Bumblebee," which was originally composed as an orchestral interlude for the opera "Tsar Sultan." This famous virtuoso showpiece will be followed by Tchaikovsky's "Rococo Variations."
Another Tchaikovsky work, however, anchors the program.
"Since it's close to Valentine's Day, I wanted to do some astonishingly romantic music," Fountain says. "If I were to make a list of the most romantic music, Tchaikovsky's Fifth would be on it."
Tchaikovsky's Symphony No. 5 is generally ranked among history's greatest symphonic creations even though, as has been well documented, the composer was apparently not fond of it (he considered the ending's triumphant bombast insincere).
The first performance took place in St. Petersburg in 1888, with Tchaikovsky himself directing the orchestra.
The work is in four movements, contrasted in the traditional fast-slow-scherzo-fast pattern, and sharing a recurring theme (played by the clarinets at the symphony's opening). This melodic theme also comes from the opera "A Life for the Tsar."
"If you've ever listened to public radio -- ever," Fountain says, "you will be familiar with this piece."
Although Tchaikovsky's Fifth is perhaps the more obvious musical work to include in a concert of Russian classics, Fountain says he's growing rather fond of the composer's other piece in the program.
"Sunday night, we were able to get together and hear it for the first time with the orchestra," Fountain says. "It was such a luxury. Everything rolled along so nicely that I'm feeling really good about it."
News source: southbendtribune.com


Print this news
---
Culture news archive for 16 February' 2007.
Culture news archive for February' 2007.
Culture news archive for 2007 year.