Culture news
The plot thickens
02.16.2007 18:14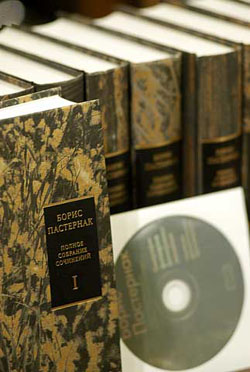 By Peter Finn
The Washington Post
MOSCOW — Into one of the most sordid episodes in Russian literary history, the Soviets' persecution of Boris Pasternak, author of "Doctor Zhivago," a Russian historian has injected a belated piece of intrigue: the CIA as covert financier of a Russian-language edition of the epic novel.
Ivan Tolstoy, who is also a broadcaster for Radio Liberty and Radio Free Europe, writes in a forthcoming book that the CIA secretly arranged for the publication of a limited Russian-language edition of "Doctor Zhivago" in 1958 to help Pasternak secure the Nobel Prize in Literature that year.
"Pasternak's novel became a tool that was used by the United States to teach the Soviet Union a lesson," Tolstoy said in a telephone interview from Prague, where he works as a Russian commentator for the U.S. government-funded radio stations. The novelist knew nothing of the CIA's action, according to Tolstoy and the writer's family.
Tolstoy said his book, "The Laundered Novel," is based on more than a decade of research and will be released later this year, the 50th anniversary of the publication of "Doctor Zhivago." He previewed its contents in a recent lecture in Moscow.
A CIA role in printing a Russian-language edition has been rumored for years. Tolstoy offers the first detailed account of what would rank as perhaps the crowning episode of a long cultural Cold War, in which the agency secretly financed literary magazines and seminars in Europe in an effort to cultivate anti-Soviet sentiment among intellectuals.
A CIA spokesperson said the agency would have no comment on Tolstoy's account. The agency's files on its cultural underwriting in Europe remain closed, historians said.
An official at the Swedish Academy, which chooses the Nobel winner in literature, said that materials on the prize committee's internal deliberations are sealed for 50 years. The Pasternak file will not become public until 2009.
The CIA connection has dismayed Pasternak's family and sparked a feud with Tolstoy, himself the grandson of an acclaimed Soviet-era novelist, Alexei Tolstoy.
"It is a detail hardly worth mentioning, a cheap sensation," said Yevgeny Pasternak, the author's 84-year-old son and an editor of his collected works, in an interview at his Moscow apartment. "I can add that my father knew nothing about this game. There is no doubt he would have won the prize anyway — in 1959."
Pasternak, also a renowned poet, finished "Doctor Zhivago" in 1955 and submitted the novel to a Soviet publishing house for consideration.
The story of a man torn between two women against the backdrop of the Russian Revolution was rejected. But Soviet-era documents published in 2001 show that even in unpublished manuscript form it was hardly ignored.
"Boris Pasternak's novel is a malicious libel of the U.S.S.R.," wrote Soviet Foreign Minister Dmitry Shepilov in an August 1956 memo to members of the Central Committee of the Communist Party. In a memo of its own, the KGB offered the opinion that "a typical feature of his work is estrangement from Soviet life and a celebration of individualism."
Other Soviet papers show that the KGB knew that Pasternak was looking abroad as well and had reached a deal with the Italian publisher Giangiacomo Feltrinelli to issue the novel in Italian.
In the months leading up to its publication date in late 1957, the Soviet authorities called on Italian communists to urge Feltrinelli, himself a communist, not to go forward with it.
Pasternak was pressured into sending Feltrinelli telegrams telling him he was withdrawing his consent for publication. But Pasternak sent separate, secret letters to Feltrinelli urging him to go ahead despite what his officially encouraged cables might have said, according to extensive correspondence between the two that is quoted in a memoir of Feltrinelli by his son, Carlo.
In early November 1957, just days after Feltrinelli received a letter from Pasternak scolding him for lack of decency because of his determination to publish, Pasternak secretly wrote how happy he was that the Italian was not "fooled by those idiotic and brutal appeals accompanied by my signature (!), a signature all but false and counterfeit insofar as it was extorted from me by a blend of fraud and violence.
"We shall soon have an Italian 'Zhivago,' French, English and German 'Zhivagos' — and one day perhaps a geographically distant but Russian 'Zhivago'!"
Pasternak had been nominated for the Nobel Prize for his poetry every year between 1946 and 1950. The novel, which after the Italian edition appeared in English and French, received almost universal acclaim abroad, rekindling interest in Pasternak as a potential laureate. In 1958, he was nominated again for the prize by the previous year's winner, the French writer Albert Camus. But there was still no Russian-language edition of "Doctor Zhivago," and the Swedish Academy required that any work under consideration be submitted in its original language, Tolstoy said. Soon a Russian "Zhivago" appeared at the academy, bearing the name of Feltrinelli as publisher. But the Italian house had not printed it.
In the memoir, Carlo Feltrinelli wrote that his father had suspected a CIA hand in the pirated edition. The agency "allegedly photographed the typescript at the Malta airport when the plane Feltrinelli was traveling in made a bogus emergency landing," the younger Feltrinelli wrote in his book "Feltrinelli: A Story of Riches, Revolution, and Violent Death."
Later, in a 1970 article for the Sunday Times of London, the elder Feltrinelli wrote that "while the literary world was acclaiming 'Doctor Zhivago' and its author, I became aware of the first signs of a battle between me and a number of persons and institutions (all connected with the same circle of anti-Soviet activities that in one way or another were connected to the CIA). It would seem that someone had printed an edition at the request of some Russian emigres in Paris who had certain ties with Americans."
According to Tolstoy, among those seeking a Russian-language copy in 1958 was Nikolai Nabokov, secretary-general of the Congress for Cultural Freedom. The organization, based in Paris, was exposed in the 1960s as a leading vehicle of the CIA's attempt to woo anti-Soviet intellectuals in Europe.
Carlo Feltrinelli remains skeptical that any such secret publication was aimed at the judges in Stockholm. "If there were some fake copies, if there was some CIA edition, I still don't see the connection with the Nobel Prize," he said in a phone interview from Milan, where he runs the company founded by his father.
Tolstoy said that he tracked down the Russian emigre who typeset the book, found the publishing house that printed it, and interviewed ex-CIA operatives to unravel a web of agency deceptions behind the publication.
The forthcoming book "has all concrete details," said Tolstoy, who added he was not going to steal his own thunder by revealing all his evidence in advance of publication.
The Soviets, certainly, had no doubt that the writer had Western promoters.
"In the summer of 1958, a large campaign to award Pasternak a Nobel prize was initiated by Americans and launched in the West," wrote a KGB official in a memo to the Central Committee of the Communist Party. "All reactionary and anti-Soviet forces took an active part in this campaign."
Pasternak won the prize on Oct. 23, 1958, "for his notable achievement in both contemporary poetry and the field of the great Russian narrative tradition."
"Infinitely grateful, moved, proud, amazed and confused," wrote Pasternak in a telegram hurriedly sent to the Swedish Academy. "He was very happy for a few hours," recounted his son.
But Soviet authorities quickly unleashed a torrent of abuse on the celebrated author. He was forced to turn down the honor and was expelled from the Writers' Union, where 29 members, including some old acquaintances, spoke against him.
Tolstoy argues that the Nobel Prize kept Pasternak out of prison because such a punishment would have been too embarrassing internationally for the Soviets. "The KGB wanted to destroy him," said Tolstoy. "A Russian publication and a Nobel Prize were necessary to save him."
That is an interpretation that Pasternak's son contests. He said the writer's health, already fragile, buckled under the official onslaught. Boris Pasternak died of cancer in 1960 at the age of 70.
"Some of his friends believed that it would be fine if he got the prize one year later — the scandal would be over and everything would be quieter," said his son, who accepted the honor on his father's behalf in 1989. "I don't know."
"Some of his friends believed that it would be fine if he got the prize one year later — the scandal would be over and everything would be quieter," said his son, who accepted the honor on his father's behalf in 1989. "I don't know."
News source: times.spb.ru


Print this news
---
Culture news archive for 16 February' 2007.
Culture news archive for February' 2007.
Culture news archive for 2007 year.