Culture news
Thespian's refuge
02.16.2007 18:08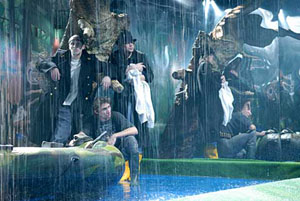 By Olga Kalashnikova
Special to The St. Petersburg Times
During the twenty-year history of the Priyut Komedianta Theater there have been lots of events and achievements, however, now celebrating theater's anniversary, which takes place on Sunday on the stage of Music Hall Theater, its artistic director Victor Minkov prefers to speak not about the past, but about the future with its premieres, plans and new projects.
"Twenty years is not a time to look back: the theater is just beginning to develop both in creative and organizational terms," said Minkov.
Now a modern theatrical center, twenty years ago Priyut Komedianta was a small stage with performances given in a chamber atmosphere. Priyut Komedianta was established on Feb. 19, 1987 by actor and director Yury Tomoshevsky, who decided to bring to life the idea of a "one-man theater." The theater became popular as the Soviet Union began to collapse because its small, poetic shows revived the atmosphere of the literary and artistic salons of early 20th-century Russia before the Bolshik Revolution of 1917. Priyut Komedianta — which in English carries the sense of "Thespian's Refuge" — became a shelter for those actors who could not fulfill all their dreams and plans in their own staid, state-run repertory theaters.
Minkov came to the theater in 1995 and soon introduced a new way of working in which it became a state-funded theater with a fixed repertoire but without a permanent actors' company. Under this new system, unique in Russia at the time, a company of creative people, including directors, actors and designers, gather from different city theaters to stage a particular performance.
This system allows, for example, the well-known Moscow actress Inga Oboldina comes to the theater every month to act in "Knocked Down by The Rain," a new play introduced to the repertoire last year.
"This is the first time in Petersburg theater history that a popular Moscow actress appears in repertory theater," said Minkov.
The combination of Russian repertory theater and the Western model of using contracted professionals allows the theater to be experimental and to stage various genres, from classical pieces to modern plays and musicals.
The theater tries to maintain the traditions of the Russian theater school with the International Master/Pupil Festival held annually in November.
The festival shows the best works of students of outstanding Russian directors. The first in 2005 represented Pyotr Fomenko's pupils, while last year's festival featured plays directed by students of Kama Ginkas. Later this year, the festival will be devoted to students of Mark Zakharov.
Taking something from the great masters, students usually try to find their own style.
"Our new program will concentrate on young producers. Either young directors or interesting, advanced, original producers," said Minkov. "This niche is still free in St. Petersburg."
"The atmosphere at Priyut Komedianta encourages actors and directors to put on rather liberated productions," said Andrei Moguchy, the director of such performances as "Pro Turandot" and "Non-Hamlet."
Priyut Komedianta is also planning five foreign tours and will take part in different European theater festivals, including a St. Petersburg theater season in Prague where Priyut Komedianta will perform its versions of "A Streetcar Named Desire" by Tennessee Williams and "Two For the Seesaw" by William Gibson.
The theater has other ambitious plans, such as increasing its capacity to 500 seats with the construction of three more floors.
"We hope that the reconstruction will take place in 2009," said Minkov.
"There is also the idea of converting the theater into a 'theater-club' as a shelter for all creative people in our city, where, apart from its main activity — putting on performances — there will be some 'hooks,'" said Minkov.
"Maybe there will be a press bar, an open studio, where artists' interviews could be held. There are plans to have Internet access in the theater, and the opportunity to reserve books from the Mayakovsky Library."
"The task is to make the time spent in the theater comfortable in all ways. The theatergoer should be given more services," added Minkov.
This Sunday's anniversary celebration will meanwhile be held in the much larger Music Hall Theater and devoted to those people who work at Priyut Kommedianta every day.
Among the guests to perform will be leading soloists of the Academy of Young Singers of the Mariinsky Theater, six-year-old violinist Daria Dadonova, Yury Tomoshevsky and singer Tamara Gvardtsiteli.
See listings from page ix and map for more information.
News source: times.spb.ru


Print this news
---
Culture news archive for 16 February' 2007.
Culture news archive for February' 2007.
Culture news archive for 2007 year.