Culture news
Exhibition Tracks Progress of St. Peter's
02.28.2007 15:53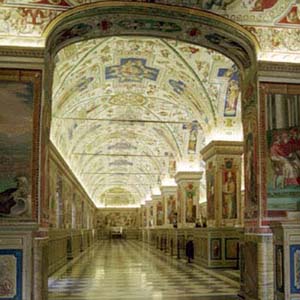 St. Petersburg will host the exhibition "'Tu es Petrus': The Temple of Peter in the Medals of the Popes." The exhibition was presented to the press last Thursday in the Vatican, on the eve of its official opening in Rome.
The initiative is among the events to celebrate the 500th anniversary of the construction of the current St. Peter's Basilica.
The exhibition was organized by the Vatican Library in collaboration with the Collezioni Numismatiche. Numerous medals from the Vatican Library will be exhibited, along with pieces loaned by the Manzu Collection of the National Museum of Modern Art, the Crocetti Foundation and the Minguzzi Foundation.
The exhibition in Rome runs until April 22 in the Villa Chiassi, Via Cola di Rienzo, 22.
With this exhibition, the Vatican Library highlights the importance of the medals that accompanied, step by step, the construction of the basilica since April 18, 1506.
On that date, Pope Julius II laid the first stone of the great church which would replace the one built by Constantine almost 1,200 years earlier over the tomb of St. Peter.
For more than a century the basilica's construction went forward, with constant interruptions and resumptions.
Every time the construction of a new part of the basilica began, a commemorative medal was made; this was generally placed in the foundation, explained the vice prefect of the Vatican Library, Ambrogio Piazzoni.
The exhibition brings to light 645 of these medals; from that of the foundation -- which refers to the later-abandoned plan of Bramante, to the plans of Sangallo and of Michelangelo, to that of the cupola, which reflects Maderno's facade, to that of the baldacchino and Bernini's cathedra, to that of Bernini's colonnade, and so on.
Piazzoni announced that, after Rome, the exhibition will go to Russia, to the Hermitage Museum in St. Petersburg. The event there will run May 18-July 22.
It will be, he said, a "very significant event given that it is the first time that articles of the Vatican Apostolic Library are exhibited in that great country."
News source: zenit.org


Print this news
---
Culture news archive for 28 February' 2007.
Culture news archive for February' 2007.
Culture news archive for 2007 year.