Culture news
Doing battle
03.07.2007 16:54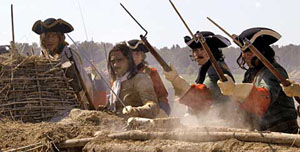 By Leo Mourzenko
Special to The St. Petersburg Times
Russian mainstream cinema is taking one giant leap after another. Just a few years ago any production that involved more than one visual effect caused a commotion — but look at the industry now: for the second time this year, two big crowed-pleasers are released simultaneously.
It hasn't even been a full month since fantasy epic "Volkodav" beat glamorous comedy "Zhara" in the holiday season box-office battle, yet now there's another bout between a pseudo-historical epic "The Sovereign's Servant" and sci-fi action-flick "Paragraph 78."
The cumulative gross of the January frontrunners exceeded $35 million and if the current clash of blockbusters ends up taking a similar impressive amount the Russian film industry will have good reason to celebrate.
Both "The Sovereign's Servant" and "Paragraph 78" have two uniting majors flaws, they both are quite silly and unoriginal, but at the same time both try hard to amuse and entertain.
"Paragraph 78," an action flick about a team of action-figure-like studs plus one ex-pop singer, is derived from every videogame-based movie, from "Resident Evil" to "Doom," even though it's based on a short story by Ivan Okhlobistin; "The Sovereign's Servant," based on authentic memoirs and historical events from the 18th century, is derived from every single movie ever made, with maybe the exception of "Resident Evil" and "Doom."
In "Paragraph 78" a diverse group of multitalented individuals with very evocative names, such as Spam and Festival, breaks apart due to a disagreement with the leader of the pack named Goodwin (Gosha Kuzenko). The relevance of this backstory is questionable because in spite of the supposedly serious clash none of the members of the rescue gang show any sign of hesitation when Goodwin shows up a few years later to reassemble the squad. The only shadow upon this exciting class reunion comes from a girl, cherchez la femme, so to speak. The girl, nicknamed Fox (Anastasia Slanevskaya, formerly known as Slava), used to be with the guy nicknamed Skif (Vladimir Vdovichenkov) but over the years developed a liking for Goodwin. Now they all need to fight evil and trouble is in the air. The group takes on the risky mission of saving the world and flies in a chopper that drops them off on a mysterious island where a secret WMD lab has run into trouble.
In "The Sovereign's Servant," meanwhile, two bewigged and powdered chevaliers get into a duel. Louis XIV says "cherchez la femme" and fires a shot. La femme happens to be a lady in waiting for whom the aged king has the hots, so he decides to get rid of both potential rivals by sending them away: chevalier De La Bouche (Valery Malikov) to Charles XII of Sweden; chevalier De Brese (Dmitry Miller) to Peter I of Russia. Prior to departure chevalier De Brese breezes into la femme's bedroom and we are shown exactly how courtiers kissed goodbye in 1709. The necessity of this backstory is even more than questionable than that in "Paragraph 78" because what fits into two sentences unravels for almost 40 minutes and there's no other way to explain it other than that writer/director Oleg Ryaskov wanted everyone in the audience to realize that he did actually go to France and really liked it there. Chevalier De Breze however doesn't dare to go against Louis XIV and leaves the director's favored location to embark on a risky and valiant journey to help the Russians win a war against Swedes, thus probably saving the world.
The two feature films, both alike in dignity, try to compensate for the lack of originality by going out of their way to create eye-candy images — and they succeed. "Paragraph 78" has some kickin' visual effects and very-well choreographed stunts. "The Sovereign's Servant" does a really good job squeezing the best out the southern Russia landscapes, boasts scenes shot in Versailles and demonstrates technical achievements in depicting battle scenes with more than 1,000 extras.
Their mutual trouble is silliness.
In "Paragraph 78" this problem matters little due to the overall structure of the movie where character development isn't required. The film however manages to seriously impress you with ridiculously shameless product placement and the most God-awful acting ever since Natalie Portman finished her Star Wars career.
The silliness of vital script elements is more apparent in "The Sovereign's Servant" where the main character has absolutely no motivation to be in any way involved with Russian wars; still he fights as if Marianne was right behind him. Moreover, it remains unclear who is the sovereign's servant because DeBrese befriends heroic Russian warrior Danila Voronov (Alexander Bukharov) — who was born in a village that came out of a yogurt commercial and who looks like a beatnik dressed as a wardrobe man at the Mariinksy — but the guy is clearly a supporting character. What did the French guy do to become a servant of the Russian emperor is a mystery.
The same is true of what exactly happened at the WMD lab in the other movie — although that story is set to be resolved in "Paragraph 78 Part II" which hits screens in a month.
News source: times.spb.ru


Print this news
---
Culture news archive for 07 March' 2007.
Culture news archive for March' 2007.
Culture news archive for 2007 year.