Culture news
The queen of Hollywood
03.07.2007 17:12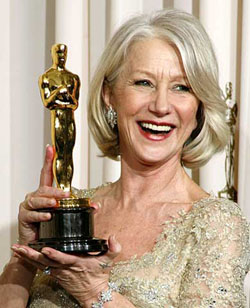 By Matthew Brown
Staff Writer
Russians can take some pride this week that a woman with roots in the country won the Academy Award for Best Actress at the annual Oscars extravaganza in Hollywood last Sunday.
British actress Helen Mirren, who was awarded for her portrayal of Queen Elizabeth II in "The Queen," was born Yelena Vasiliovna Mironova to an English mother and Russian father in London in 1945.
The granddaughter of an emigre Russian aristocrat, Mirren doesn't speak Russian and once had a limited awareness of her Russian background. It was not until recently that the actress discovered that her ancestors' family estate was near the town of Smolensk.
Mirren's grandfather, who was in the tsarist army and came from an old military family on both sides, died when Helen was seven years old. Her Russian grandmother died later but it was her grandfather who dreamed of coming back to Russia and found it very painful to be away from his home country after the Bolshevik Revolution in 1917 stranded him in Britain. Her father, on the other hand, tried to have as little to do with the country of his birth as possible and called himself Basil, the Anglicized version of his Russian name Vasily.
"Since the 1930's, my father became very left-wing in England as a reaction against fascism, conflicting with his father who believed in the tsar and that whole system in Russia," Mirren told The St. Petersburg Times in 2004. "So [my father] just wanted to forget about Russia and the family house there and all related things. "
That Mirren now knows more about her Russian heritage is, surprisingly, thanks to the popular Russian actor Oleg Menshikov.
For years Mirren had her grandfather's papers, letters and documents with her but couldn't read them as they are all in Russian.
"I have only recently started having them translated," she said. "I was working on [the TV series] 'Prime Suspect' in England, and Oleg Menshikov was in it, acting with me. He had a Russian translator working with him on the set to help him with his English. I told the translator that I had all these papers, and asked if he would be able to translate them for me. And he said yes. And it sort of opened the door."
Her childhood image of Russia was romantic. Mirren loved to look at a photograph of her Russian grandfather in the snow outside the family home near Smolensk.
"There were his brothers and sisters in that picture as well, and the troika, and it looked to me exactly like something out of Chekhov," Mirren said. "So I had a very romantic vision of the country, all to do with snow, troika, vodka, paskha and bells — not remotely to do with the reality at all."
On a trip to Russia three years ago, the actress couldn't find the graves of her ancestors at the Vagankovskoye cemetery in Moscow but a visit to the Kremlin proved more successful in tracing the family connection.
"It was at a great hall at the Kremlin, and on the walls they had the names of all the generals, field-marshals and heroes who fought in all the wars," she said. "And I know that my great-great-great-great-grandfather was field-marshal Kamensky, one of the heroes of the Napoleonic wars."
Mirren's connection to Russia goes further — she met her husband, American film maker Taylor Hackford, when he directed her in "White Nights" in 1985, which was set in the U.S.S.R. (but filmed mostly in Finland) and starred Russian ballet dancer Mikhail Baryshnikov as a defector. Mirren played a Leningrad ballerina once in love with Baryshnikov.
And one of her first notable film roles was playing cosmonaut Tanya Kirbuk in the 1984 movie "2010" — the follow-up to "2001: A Space Odyssey."
Mirren's forte, however, has been to play quintessentially British characters with a provocative twist — from Shakespearean roles such as Lady Macbeth to the detective Jane Tennison in "Prime Suspect." Two of Mirren's most memorable films are Peter Greenaway's "The Cook, The Thief, His Wife and Her Lover" (1989) and "Calendar Girls" (2004). But playing British queens has proved particularly fruitful for Mirren. As well as playing Queen Elizabeth II in "The Queen," she played Queen Elizabeth I on television last year — earning the actress the distinction of receiving two Golden Globe awards in the same year for portraying distantly-related monarchs. Mirren also earned her first Oscar nomination in 1994 for playing Queen Charlotte, the wife of George III in "The Madness of King George."
Fittingly, Mirren — who is styled as Dame Helen, the female version of "Sir" after receiving a state award for services to acting in 2003 — paid tribute to the real Queen Elizabeth when she was awarded the Oscar for playing her this week.
"For 50 years, Elizabeth Windsor has maintained her dignity, sense of duty — and her hairstyle," said Mirren.
Saluting the monarch's "courage and consistency," Mirren raised her award and told the audience: "I thank her because if it wasn't for her I most certainly would not be here. Ladies and gentlemen, I give you the Queen!"
News source: times.spb.ru


Print this news
---
Culture news archive for 07 March' 2007.
Culture news archive for March' 2007.
Culture news archive for 2007 year.