Culture news
Film Festival to Tackle Racism
03.21.2007 15:05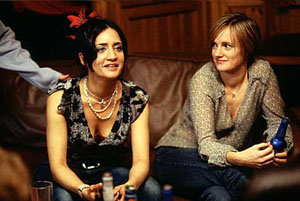 By Ali Nassor
Special to The St. Petersburg Times
Scenes of institutionalized xenophobia, violent hate crimes and genocide are depicted in four movies and a photo exhibition exposing a Russian-European-African triangle of intolerance to be displayed at Dom Kino starting Wednesday, to coincide with the UN's World Day Against Racism.
The five-day Open Your Eyes! Movie Festival Against Racism and Xenophobia, organized by the St. Petersburg-based Russian-German Exchange in collaboration with the city's inter-regional Social Democratic Youth Union, is the first in a series of cultural events to be held in the city as part of a public awareness campaign promoting tolerance, Astrid Schorn, the organization's executive director, said. Entrance will be free.
The film progam includes Roman Khavronsky's film, "Mirnoye Vremya" (2006) in which writer Alla Gerber, president of the Holocaust Foundation, quotes familiar anti-Semitic slurs that she hears in Russia. The film, showing on Friday, also depicts a white supremacist rally in Moscow and CCTV footage showing convicted anti-Semite Alexander Kopsov storming a synagogue to stab worshipers. President Vladimir Putin is shown voicing rhetoric of condemnation.
The festival opens on Wednesday with Terry George's "Hotel Rwanda" (2004), set during the 1994 Rwandan genocide. Although the film won praise from Western critics for its depiction of the genocide, Valens Maniragena, head of St. Petersburg's Rwandan asylum seekers and charity organization, Ichumbi, who witnessed the events said that the film is exaggerated and distorted,
"It s not about the Hutus butchering the Tutsis as portrayed in the film; it's about civil war involving guns and military arsenals with victims from both sides," Maniragena said.
Kenny Glenaan's "Yasmin" (2004), showing on Thursday, is a British-German production depicting a British young woman of Pakistani origin suffering discrimination as a result of Islamophobia in the wake of September 11 terror attacks on the U.S.
In Ulf Malmros' "We Can Be Heroes" (2002), two immigrant children are rejected by their Swedish classmates and in conflict with their parents over their future.
Ten-year-old Marcello from Italy finds consolation from his female peer Fatima from Lebanon, who is also at odds with her conservative family over cultural values in a secular Swedish society.
The film festival, which ends Saturday, is also part of a European Week Against Racism, an offshoot of the UN's World Day Against Racism declared following the March 21, 1960 Sharpeville massacre in South Africa.
For more information visit www.domkino.spb.ru
www.openeyes.spb.ru
and www.obmen.org
Photo:For The St. Petersburg Times
A scene from 'Yasmin,' part of the Open Your Eyes! Film festival showing this week.
News source: times.spb.ru


Print this news
---
Culture news archive for 21 March' 2007.
Culture news archive for March' 2007.
Culture news archive for 2007 year.