Culture news
Treasure trove
03.28.2007 16:25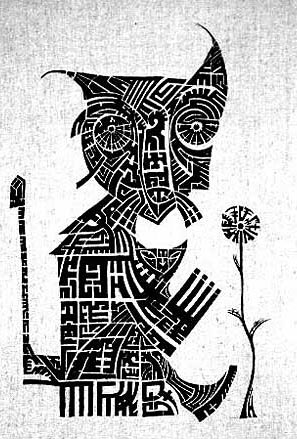 By Katya Madrid
Special to The St. Petersburg Times
photo by The St. Petersburg Times
Pigeons hobbling around puddles are a pleasant part of the landscape in the afternoon light that baths them and St. Isaac's Cathedral in a pink haze. A short walk towards Nevsky Prospekt leads to 38 Bolshaya Morskaya, home of the St. Petersburg Artists' Union. This is a treasure that has survived all the political changes, and continues to serve as a resource for all who wish to get a taste of the local visual arts scene, imperfect as it is.
A grand staircase leads you to several galleries. Walk right past the painting gallery — this is not their strong point. A smaller space nearby houses "A Women's Project. St. Petersburg — Moscow. Spring 2007," a show of three hot enamel artists that runs through March 25. This 4,000-year-old artform is now experiencing a renaissance.
Olga Lisenkova from St. Petersburg, and Olga Zuyeva and Tatyana Kiselyova from Moscow are a strong group, however Lisenkova sets herself apart by experimenting with mixed media techniques such as embedding her images in pieces of driftwood, and the use of found objects.
The warm quality of the wood brings out the sleek, cool texture of the enamel on copper, making an otherwise two dimensional piece tactile and sensually inviting. This sculptural element also adds to the dynamism of the pictorial composition. Lisenkova collaborates with her husband, Vasily Shcherbenin (not mentioned in the credits) who is an interior designer. Together, they create the final form that completes the story evoked by the image.
"I hope to effect positive change in people's state of mind," Lisenkova said in a recent phone interview, explaining her approach to art.
"I am not an artist that seeks to shock, or upset my audience. There is enough of that in our daily life. They must leave with joy."
Her work has a meditative feel. A cutting-edge super-hipster she is not, but maybe not everyone needs to be. She incorporates aspects of Russian culture, fairytales, and the Orthodox faith in her art.
"Autumn's Fan" is a key piece for Lisenkova. It has lively spots of the rich color that is characteristic of her work. Two fairly heavy pieces are connected by slender little sticks. In the lower panel long, tentacle-like fingers, adorned by many jewels, reach for the season's harvest just out of reach in the upper panel. There is an implication that manual labor alone will not achieve the goal. A small brass bell hanging off the edge of the upper panel (the fan that bears the basket of fruit) brings sound to the attention of the viewer, as well as inviting thoughts of the church, as if to suggest the necessity of the intervention of God before true satisfaction can be reached. Figures of angels appear in the lower panel that stands upright, firmly grounded on earth.
There is a balance of the earthly and heavenly realms in both halves of the piece.
The technical aspect of the process of hot enamel is fascinating and painstakingly long. After the artist makes a drawing on a copper plate, the first layer of enamel color (a combination of glass and oxidizing pigment that bond to metal in high temperatures) is applied, and the piece goes into an oven heated to 800-850 degrees Celsius.
This process is repeated many times, and each time the enamel changes its chemical composition, which results in a change in color. The transformation can be dramatic, thus the mastery of this craft involves being able to predict how the color will change.
It is like playing chess, and thinking many moves ahead.
Simpler commercial pieces are done in three to four firings. Lisenkova, and others of her caliber, put their pieces in the kiln twenty times on average. She confesses that after a certain point, she no longer knows what to expect.
Thus, each firing is a nerve-racking adventure that can either make or break a piece.
The next gallery exhibited the bold and humorous work of Dennis Fedorov, in his show "Graphic Automatism, the Philosophy of Line." Fedorov is a breath of fresh air whose universality is part of the appeal.
The whimsical pieces recall the art of Keith Haring, only minus the bright colors. Using design elements native to the Maori tribes of the Pacific Islands (bold, complex, rectilinear forms that weave a dense, interlocking pattern), Fedorov creates funny little creatures in his paintings which he manages to infuse with charm and character.
One piece that stands out is entitled "Cat with Kitten." It has a poetry akin to a child's dream. A sitting figure with a cat's features en face and a melancholic humanoid profile holds a kitten on its lap.
The human looks at a dandilion stretching up towards his gaze. The busy pattern that fills the image sets up a quick rhythm that is juxtaposed against the stillness of the moment depicted.
Fedorov often leaves naked, swampy grey canvas as the background, which adds a textural dimension to his work.
The technique that he uses is only described as being authored by the artist. Keep an eye out for this one. He is worth seeing.
The Art Cafe next door is also part of the Artists' Union, a quaint little place whose interior is fully painted by the hands of the union members.
Try the artfully-made pelmeni and the vareniki, Russian-style dumplings.
"A Women's Project. St. Petersburg — Moscow. Spring 2007" runs through Sunday at the Artists' Union Exhibition Center, 38 Bolshaya Morskaya.
Tel: 314 3060.
www.uniart.ru
www.uniart.ru
News source: times.spb.ru


Print this news
---
Culture news archive for 28 March' 2007.
Culture news archive for March' 2007.
Culture news archive for 2007 year.