Culture news
Psycho drama
04.02.2007 13:21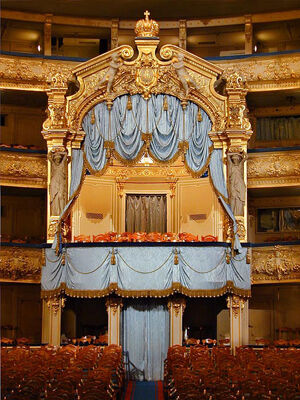 By Galina Stolyarova
Staff Writer
An opera that blurs the borders between opera and drama, "Jenufa," which brought international recognition to its creator, Czech composer Leos Janacek when it first played in Prague in 1916, is coming to St. Petersburg on Wednesday, to enjoy its first ever staging at the Mariinsky Theater.
A pshychological drama revolving around a humble Moravian family, the opera has been in vogue since it was first staged. This season alone sees four new renditions of "Jenufa," including premieres at the Metropolitan Opera, the Washington National Opera and Staatstheater Stuttgart.
"Jenufa" originally premiered in Brno in 1904 but attracted little attention, and it was the much later 1916 version that became popular. Karel Kovarovic, who was at the time director of Prague's National Theater, had amended the opera — without Janacek's knowledge — by incorporating his own re-orchestration of the finale.
But the Mariinsky is reviving the initial 1904 version.
Kovarovic's much lighter, more melodic adaptation was born largely out of fear that audiences — which had at that time been nurtured on the languid tempos and luscious sentimentality of Puccini — would not sit through Janacek's short, dark masterpiece. But as time went on, Kovarovic's softened version fell out of fashion, and these days most companies go for the real thing.
Based on "Jeji pastorkyna" (Her Stepdaughter), a story by Gabriela Preissova, a contemporary of Janacek, "Jenufa" was the composer's first opera based on prose rather than verse.
When the story begins, Jenufa is expecting a child from Steva and is urging him to marry her. Her pregnancy helps Steva escape from serving in the army, and the young man celebrates the good news by returning home drunk. His condition propels Jenufa's foster-mother, Kostelnicka, to suspend the marriage until Steva combats his drinking problem. Steva's stepbrother, Laca is also in love with Jenufa. When Jenufa rejects him, Laca slashes her face with a knife.
When the baby is born, Kostelnicka begs Steva to marry Jenufa, but the woman's disfigured face is no longer attractive to him. And worse, Steva is now engaged to the mayor's daughter Karolka. Kostelnicka then tries to arrange the marriage of Jenufa and Laca, who is still in love with her. Kostelnicka drowns the baby and convinces both Jenufa and Laca that it died of natural causes, but the truth comes out as soon as the wedding ceremony begins. Jenufa offers freedom to Laca, who remains faithful, and the couple declare their love for each other.
The Mariinsky production is being staged by the young Moscow director Vasily Barkhatov, known for his experimental productions at Helicon Opera.
Exposure to Janacek in Russia has been limited to less than a handful of shows. The Novosibirsk Opera Theater has staged "Jenufa", and Moscow's Bolshoi Theater has staged the opera twice, while Helicon Opera once put on Janacek's "The Makropulos Case."
Janacek has been a missing link in the Mariinsky repertoire for many decades, and now the company is happily and enthusiastically filling the gap. This means that more Janacek will follow shortly: a production of "The Makropulos Case" is scheduled for June.
Set designer Zinovy Margolin said that because "Jenufa" has seldom been seen in Russia it is easier for the production team.
"With operatic bestsellers, every new show is like walking across a minefield because expectations are so high and audiences are so demanding," he said. "But in Russia, the stage history of this opera — despite its tremendous international success — is virtually nonexistent."
Before "Jenufa," Janacek was known almost exclusively as folklorist, and this interest reveals itself in Act I.
"The first entrance of [main character Steva] in Act I painstakingly resembles Janacek's score for [his earlier piece] 'The Beginning of a Romance,'" Barkhatov said. "But Acts II and III are all about drama and harsh dissonances."
"Jenufa" is often seen as a work of art that grew out of Janacek's personal torment and spiritual discomfort.
"It is nearly impossible to say whether it was Janacek's own family catastrophe that caused 'Jenufa' to emerge or whether it was the opposite and the score threw the composer into a troubled emotional and mental state," Barkhatov said.
When the composer began the opera, his son had just died of meningitis. While work on "Jenufa" was in progress, Janacek's daughter Olga fell fatally ill while on a journey to Russia and the composer played some of the music to her before she died.
Margolin said the Mariinsky's "Jenufa" will be set "in the middle of nowhere."
"I am not recreating a Moravian village from 1900, and it will be nothing like a modern Czech brewery," he said. "It is a timeless story, so our take will be to create some kind of a metaphysical space for the show. Three quarters of Russia lives like this anyway — and it certainly did a hundred years ago."
Barkhatov feels that the market for "Jenufa" will be limited in Russia and in St. Petersburg specifically.
"We are not making a popular hit," he said. "A rather narrow circle of opera audiences can appreciate this music and I am aware of the fact that the opera will not be shown very often."
"Jenufa" is performed on Wednesday at the Mariinsky Theater. www.mariinsky.ru
News source: times.spb.ru


Print this news
---
Culture news archive for 02 April' 2007.
Culture news archive for April' 2007.
Culture news archive for 2007 year.