Culture news
Empty elegance
04.02.2007 13:23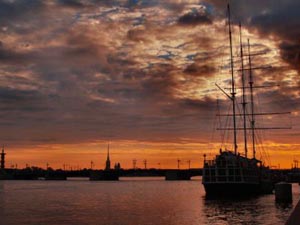 By Victoria Donovan
Special to The St. Petersburg Times
Most Eiffel
6 Dvortsovaya Naberezhnaya. Tel: 315 4035
Open from 12 p.m. until last customer leaves
Menu in Russian, French and English
Dinner for two without alcohol 3,900 rubles ($150)
Perched on the bank of the Neva and with impressive views of the glittering St. Petersburg skyline, Most Eiffel, a relatively new addition to the city's haute cuisine scene, has all the necessary accoutrements to make a big splash among the big spending diners in town.
Boasting an opulent interior and chefs trained in French culinary schools, Most Eiffel should be teeming with St. Petersburg high society, but on the Monday evening we visited, our fellow diners were conspicuous by their absence.
And, according to our waiter, this sorry state of affairs has been pretty much a constant since the restaurant opened.
What then is keeping St. Petersburg's loaded lunchers away? It can't be the service, which is exemplary. On entering we were immediately relieved of our jackets and deposited in the care of an endearing German-speaking waiter who managed to strike the elusive balance between ingratiation and distance that every top restaurant strives for. Attentive to the smallest details, we were even invited into the chronically overstaffed kitchen to witness the lobsters and oysters bubbling happily away in their tanks.
The absurdly outsized menu cards reflect the outsized prices at Eiffel Bridge but you do get quality, and theater, for your money. In an opening flourish, we were presented ("with the chef's compliments") delectable miniature appetizers of Philadelphia cheese wrapped in Parma ham and served on toast with cherry tomatoes. The "fried frog paws with sauteed vegetables" (500 rubles, $19), dramatically revealed from beneath a silver tureen, were succulent and meaty although they could have benefited from a generous dose of lemon juice to enhance the delicate garlic savor. My companion's "pumpkin thick cream soup with bacon" (400 rubles, $15) was whipped to perfection and filled with flavorsome hints of spices which avoided overpowering the sweet pumpkin aroma.
The "medallions of venison marinated in cream" (850 rubles, $32), were juicy and cooked with finesse, imbibing subtle smoky flavors from the grill. However the accompaniment of two rather pathetic-looking dauphinoise potatoes added little to the visual and palatal experience and, served on cold plates, the meat quickly became tepid unforgivably marring its luxuriant texture. The "filet of black-cod with tiger shrimps" (1,300 rubles, $50), while benefiting from a slinky saffron sauce, failed to inspire eulogies from my companion who found the dish to be rather run-of the-mill for the price — and the prawns were cold. Desserts however were a resounding success — the creme brule (450 rubles, $17) ceded with a satisfying crack to reveal an ethereal vanilla-laced center while the piquant blackberry sorbet (400 rubles, $15) served in a sweet wafer cup was a refreshing conclusion to our sensual debauchery.
The art nouveau-inspired interior of Most Eiffel has clearly been designed to ooze affluence and appeal to St. Petersburg's epicurean elites. But while the starched white table linen and red plush seat covers succeed in adding a regal element to the decor, the fastidious regularity of finely-laid empty tables sprawling over two floors and overly-bright lighting ultimately create a clinical and frigid atmosphere. Lacking the je ne sais quoi of French restaurant culture, Most Eiffel clearly misses the mark and, despite the excellent food, could remain a restaurant wasteland.
News source: times.spb.ru


Print this news
---
Culture news archive for 02 April' 2007.
Culture news archive for April' 2007.
Culture news archive for 2007 year.