Culture news
A Tale of Two Ivans
04.09.2007 17:12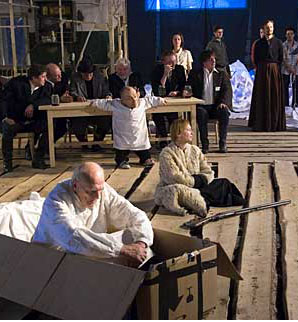 By Olga Sharapova
Special to The St. Petersburg Times
With his new play based on Nikolai Gogol's short story "The Tale of How Ivan Ivanovich Quarreled with Ivan Nikiforovich" (1835), which premieres at the Alexandrinsky Theater on Tuesday, renowned director Andrei Moguchy hopes to bring to life the absurd world of Mirgorod, the fictional Ukrainian village where the fable is set.
By bringing "Ivans" to the stage, Moguchy, a founder of the Formal Theater and the holder of a number of awards from Russian and international festivals — the latest was the Grand Prix at the BITEF International Theater Festival in Belgrade in March — shows that he is not willing to rest on his laurels and continues to break new ground.
Among Moguchy's recent projects is "Between Dog and Wolf," based on work by the modern author Sasha Sokolov, "Petersburg," based on the novel by Andrei Bely and "No Hamlet" based on Vladimir Sorokin's play "Dismorphomania." In these productions, audiences are subjected to a strong emotional influence by Moguchy's drastic approach to working with texts and the unpredictable use of the performance space. Each new production differs radically from the last.
"When I was younger," Moguchy said, "I was just ashamed of duplicating previous work, because it is so easy to muddle up original language with the rubber stamps in the theater. A new performance is like a journey to a mystery and a step to an unknown experience."
"But of course," the director went on to say," the creative decision depends on an idea that I have to share with theatergoers. I do believe that the ethical side of the performance is a very important part of a work of art. "
In "Ivans," Moguchy's production of Gogol's story about two landowners and neighbors from the strange and unreal world of Mirgorod who quarrel at the slightest pretext, the director carries the scenario to the point of absurdity. In this respect, Moguchy's mentality is close to Gogol's world.
Perhaps this is best summed up by what the Encyclopedia Britannica says of the 19th century writer's method: "Characteristic of Gogol is a sense of boundless superfluity that is soon revealed as utter emptiness and a rich comedy that suddenly turns into metaphysical horror."
Together with artist Alexander Shishkin, composer Alexander Manotskov and co-author of the stage version Denis Shirko, Moguchy tries to create a phantasmagoric world where the "war" between the two Ivans is triggered when one calls the other a goose.
"You know, it wasn't my idea to stage Gogol's novel," said Moguchy. "It came from Valery Fokin, the artistic director of the Alexandrinsky Theater, but I am very thankful for this proposal.
"Gogol's story is universal and it has a strong moral message, that really impressed me as a director and a man. The novel shows the absurdities of the situation when people can't be tolerant and do not even try to get along with each other."
During rehearsals this week Moguchy also praised his cast.
"It is also a great honor to work with such brilliant old-school actors as People's artists of Russia Nikolai Marton (in the role of Ivan Ivanovich), Viktor Smirnov (Ivan Nikiforovich) and Svetlana Smirnova (Woman)."
The director added: "I would say that the things needed to make a performance really work — the definitive theater space, marvellous actors, a creative team and an ambitious strategy on the part of the theater — are all combined in this work."
"Ivans" is performed at the Alexandrinsky Theater on April 10, 11 and 12. Website in English: http://en.alexandrinsky.ru
On the photo: a rehearsal for "Ivans," for The St. Petersburg Times.
News source: times.spb.ru


Print this news
---
Culture news archive for 09 April' 2007.
Culture news archive for April' 2007.
Culture news archive for 2007 year.