Culture news
Hopper's highway
07.02.2007 15:37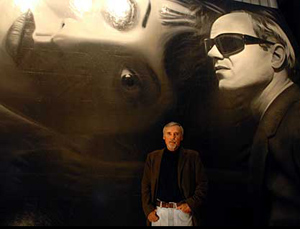 By Chris Gordon
Special to The St. Petersburg Times
Dennis Hopper, the American actor, director and artist, was in St. Petersburg last week to open an exhibition of his work at the State Hermitage Museum. Known primarily as an actor, Hopper's biography reads like a catalogue of some of the most celebrated films made in Hollywood in the last 50 years. But that didn't stop him from also becoming an artist; making photographs, paintings and assemblages that share the same concerns as some of the most important art of the 20th century.
As a young man just starting out, Hopper was signed to a contract at Warner Brothers in 1953, during the last days of the classic Hollywood studio system. Things were off to a good start for the handsome 18-year old when he acted in his first film for the legendary director Nicholas Ray. That film, "Johnny Guitar" (1954) starring Joan Crawford, became a cult classic and received great acclaim from the likes of French director and film theorist FranIois Truffaut and other leading lights of European cinema. It was Ray who went on to make "Rebel Without a Cause" (1955), starring James Dean with whom Hopper worked in both that film and in "Giant" (1956) — two of the ill-fated Dean's three films. About Dean, Hopper has always been clear. "There was never anyone like him. He was one of the greatest actors I ever met."
But Hopper's day in the sun was to be short-lived, and it wasn't long before the combination of shake-ups at the major studios and a clash of tempers landed Hopper out of a job and set him on a path that would see him crossing the U.S. and meeting everyone who was anyone in the world of art and cinema.
After notoriously giving a director a hard time by refusing direction for more than 80 takes over several days, it was nearly impossible for Hopper to find work again until the late '60s. During that period he became a member of the Actor's Studio in New York where he perfected his craft with Lee Strasberg alongside Shelly Winters, Jack Nicholson, Jane Fonda, Marlon Brando, Martin Landau and many others.
If Hopper's career as an actor had more downs than ups during the early-'60s, everything changed for him with "Easy Rider" (1969). Hopper's first directorial effort, he co-wrote the screenplay with Terry Southern and Peter Fonda and together they found a new way to make films that launched the era of independent film production. Filling the void left by the disappearance of classical Hollywood, Hopper's first directorial effort was so successful that it simultaneously created a platform for counterculture and single-handedly ignited the youth market.
Never one to compromise his vision, Hopper was given carte blanche for his following film and made the over-the-top "The Last Movie" (1971) — which it just about was for Hopper. A daring mix of high-art self-referentiality and slapstick comedy, it had more to do with Godard and the French New Wave than most audiences were prepared for and its spectacular failure (though well-regarded today) kept Hopper from directing for almost a decade.
Following with the brilliant "Out of the Blue" (1980) which Hopper also directed, and rock-legend Neil Young's eccentric "Human Highway" (1982), Hopper was in danger of sailing off into the nether world of booze and drugs. But starting with "Apocalypse Now" (1979), through to David Lynch's "Blue Velvet" (1986), and beyond, Hopper has created some of the most memorable characters ever seen on screen.
As an artist, Hopper started to take photographs in the early '60s when he was between films. "I am a compulsive creator," the actor said, "who started filling the void between acting jobs with art." And at certain points in his volatile career he had more than enough time to put his camera and unique sensibility to work.
"They used to call me the tourist," Hopper said, "because I always had my camera hanging around my neck."
But far from being a tourist, Hopper was an intimate of some of the greatest names in Hollywood and New York during the turbulent '60s. During this tumultuous and fertile period in popular culture, Hopper made beautiful pictures of his friends, in the process documenting an era and prefiguring artists like Nan Goldin and a whole host of photographers who blur the distinction between fine art, journalism and the diarist's craft.
With his photos of artists Jasper Johns, Robert Rauschenberg, Wallace Berman and Andy Warhol, Hopper makes history sing while at the same time creating images that capture the mood of the era and show, perhaps better than anyone else, what it was like to be in Los Angeles during the '60s.
"Los Angeles is not a pretty town. It looks like it was built for the next earthquake," he quipped. But the work at the Hermitage doesn't betray this and feels like a love song to that and the other cities on which he turned his lens.
The exhibition on view at the Hermitage, with its billboard-sized paintings, assemblages, film, and now classic black and white images, is one of the best to hit town in a long while. When Hopper and Hermitage director Mikhail Piotrovsky opened it last Thursday, Hopper said he felt it was "important to show work from the '60s when there was a great wall between us [Soviet Russia and the U.S.]."
Also addressing the importance of the work in Russia, long-time friend and an artist/filmmaker himself, Julian Schnabel flew in from Cannes to lend his not inconsiderable weight to the proceedings.
He made his opinion clear by saying, "It is important for people to understand the privilege of seeing such important work here."
A joint project between the Hermitage and the Solomon R. Guggenheim Foundation with support from RIGroup, the show firmly places Hopper in context while letting the work speak to a new generation.
Hopper, who has always had difficulty integrating the worlds of actor and artist, said, "It was difficult for people to take me seriously. At the time, they just thought, 'Who is this guy? He's just an actor'."
Flash-forward 40 years and there's no chance of anyone not taking Hopper seriously anymore — it's all there for everyone to see; up on the wall and larger than life.
News source: times.spb.ru


Print this news
---
Culture news archive for 02 July' 2007.
Culture news archive for July' 2007.
Culture news archive for 2007 year.