Culture news
The Grand Waltz Festival celebrates Johann Strauss and his music
07.18.2007 16:49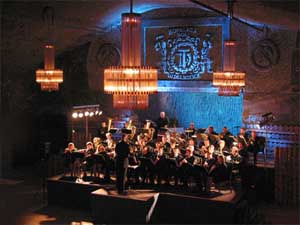 By Shasta Kearns Moore
Johann Strauss, Jr., the "Waltz King," spent 11 summers in the mid-1800s entertaining St. Petersburg high society at Pavlovsk's "musical train station."
Back then, in the new Vitebsky railway station in southern St. Petersburg, smartly dressed men and women rushed about to catch their trains. The women looked elegant in their fabulous evening gowns, puffed up and back-weighted in the latest 1850s fashion. Excitement ran high and everyone was preparing themselves for the short train ride to a grand evening of world-class music and dancing.
Johann Strauss, Jr. arrived in St. Petersburg at the start of an exciting new era in Russia. It was 1856 and the new tsar, Alexander II, had just announced the end of the Crimean War and promised new economic reforms and modern advances, including expansion of the nation's railway lines.
On Oct. 10 1837, Russia's first railway was inaugurated, running from St. Petersburg to Pavlovsk, a royal palace. The train station at Pavlovsk was nothing less than royal Russian extravagance, recalling London's Vauxhall Pleasure Gardens — giving rise to the Russian word vokzal — a train station.
The magnificent terminus was called "The Musical Station" and was surrounded by a beautifully manicured park and it included among its many amenities a concert hall to seat one hundred.
Some years after its construction, the Russian railway company invited Strauss Jr. — the scion of an Austrian dynasty of composers — to play at the station. He arrived with a 26-man orchestra and played his first concert on May 6, 1856. And so began St. Petersburg's 11 seasons of Strauss.
Strauss was instantly popular in Russia, especially among the ladies. Portraits of their idol were widely sold in bookstores, and jewelry shop windows carried rings and brooches with his image. Even uptown florists offered bouquets named after his waltzes. Strauss was, in short, the 19th century equivalent of a pop star.
One particular St. Petersburg lady was very taken with Strauss — and the feeling was mutual.
Olga Smirnitskaya, the daughter of a Russian bureaucrat, was a sensitive person with a talent for the piano and a composer of several romances. After she met Strauss in 1858, the young lovers employed adolescent strategies to keep their relationship a secret. They wrote notes to each other on candy wrappers and delivered them through mutual friends. Later, they would play hide and seek in a particular tree trunk in the park at Pavlovsk. The nearly a hundred letters written between them that exist today are wonderfully romantic.
Strauss' compositions "Viennese Bonbons" and the remorseful "Parting with St. Petersburg" were inspired by Smirnitskaya and the love they shared.
Sadly, women of that era did not marry outside their social rank, even to composers as great as Strauss, and in 1860 the affair ended when her parents refused to sanction a union.
Despite this, Strauss was admitted to the highest levels of St. Petersburg society and was considered a friend of the Romanovs.
Tsar Nicholas I's youngest son, Mikhail, himself a skilled musician, became very close to Strauss through their mutual passion for music. Tsarevich Mikhail even displayed his talent publicly, occasionally playing violin in Strauss' orchestra at Pavlovsk. Several of Strauss' compositions were written for or influenced by the Tsar and his family.
For example, Opus No. 107 was written for the occasion of Tsar Nicholas' and his sons' visit to Vienna in 1852. The piece is filled with good humor and was praised by the press for being a breath of fresh air from the normal pomp and circumstance that other composers churned out for such occasions.
"The Coronation March" was the first of Strauss' works to be played in Russia, written in honor of Tsar Nicholas II's ascension to the throne and his September 1856 coronation.
But honoring the leaders of Russia was not always a politically wise decision.
Strauss' homage to Tsar Alexander II, presented in 1864, came after a high-profile and unpopular massacre of nationalist revolutionaries in Poland. In Strauss' hometown of Vienna, the homage would have outraged high society as a tribute to a monster, or worse, a tribute to the massacre itself. The piece was actually written for a concert benefiting Polish orphans and widows, but Strauss was still afraid of political backlash so the work was neither published or played in Vienna.
"Public Relations" often played a significant role in Strauss' management decisions. The titles of several of the works he wrote for Russian audiences were changed when they were published in Austria to reflect Viennese tastes and attitudes.
Strauss could also be credited for bringing Pyotr Tchaikovsky to the world stage. While still in school as one of the first students of the St. Petersburg Conservatory, the young Tchaikovsky became a favorite of Professor Anton Rubinshtein. It was Rubinshtein who brought Tchaikovsky's school project "Characteristic Dances" to Strauss' attention. Strauss quickly recognized the budding genius in the piece and gave Tchaikovsky his first concert.
The envy of all his schoolmates, Tchaikovsky, who as a young boy was considered a worthless music student, conducted to the crowd's delight.
From that moment forward, Tchaikovsky was destined to become one of the world's most loved composers. Strauss' 11 magical summers at Pavlovsk were ended with the composition "Russian March Fantasia."
He was to have performed the piece during his 12th season in Russia but St. Petersburg's fans never heard it. Strauss skipped out on the Russian capital and instead accepted an invitation from the "World Peace Jubilee" in the United States.
Strauss did not, however, consider the legal consequences of his change of plans, which ended up costing him dearly.
The Russian railroad authorities sued him in court for breech of contract. Though Strauss came back to Russia in 1869, 1872 and 1886, Strauss would never again play at Pavlovsk.
The Russian composer Mikhail Glinka took over the reins from Strauss and the Musical Station lived on until World War II, which brought the near total destruction of Pavlosk, including the main venue for the concerts, the station itself. During Soviet times, Strauss was still popular but slowly lost influence as his genre of music died out.
In 1999, however, a year declared by the Austrian government as the Year of Johann Strauss, the Musical Olympus foundation hosted a revival in St. Petersburg called "Remembering Johann Strauss." The balls were held for only four years but were replaced by the annual Grand Waltz Festival which this year also celebrates the work of Polish composer Frederic Chopin (see box).
The interest in Strauss' music in St. Petersburg is itself a sign of the great influence the Austrian composer had on the cultural and musical life of Russia.
Those 11 musical seasons facilitated a sentimental and cultural link between Vienna and St. Petersburg at a time when Russia was searching for European influence.
This summer is the sixth Grand Waltz Festival and concerts have been organized in venues connected to Strauss' stay in Russia. Besides the Hermitage Theater and the Armorial Hall of the Winter Palace, the public is invited to Pavlovsk, Peterhof and the Konstantinovsky Palace to hear symphony music, chamber music and recitals. Leading Russian and foreign performers are participating in the festival with the Hermitage and the Admiralty orchestras.
Yulia Kantor, Artistic Director, of the festival, said:
"We imagined this Festival could be one more way to revive cultural traditions, the spiritual treasures that the Hermitage and the suburban palace museums have in common. The restoration of the Rose Pavilion, one of the venues where Strauss gave concerts, was the starting point. Then the festival spread to other palaces."
Do you invite well-established performers or young musicians just starting their careers?
"Our Russian and Western participants are experienced and well known musicians. Some of them are regulars with us, while others are new to Russian audiences. This year I recommend you pay special attention to German mezzo-soprano Ute Priev, who is a soloist with the Berlin Opera house, and to Polish pianist Karol Radziwonowicz. Our conductors are the well-known Russian musicians Vladimir Ziva, Vladimir Altshuller, Michael Sinkievich, Alexei Karabanov and Sergei Roldugin."
How does this year's program differ from the previous festivals?
"This year we want to underline the musical and cultural ties between Russia and the Austro-Hungarian Empire. It seemed logical to include works by Chopin and music by Viennese composers. When he came to Russia, Strauss traveled via Warsaw, where he stopped and performed. We have a recital of 'Gypsy melodies,' but they were arranged by Schumann, Brahms, Schubert and Tchaikovsky."
What other features are special about the festival?
"Our ticket prices. From the very start we decided to set prices accessible to everybody for whom this festival was created, namely teachers, medics, scientific researchers, the intelligentsia. That was our precondition."
A combination of smaller halls and affordable prices means that the festival cannot cover the expenses. How do sponsors feel about that?
"Our general sponsor this year is Bank Moskvy. From the start they knew this is not a commercial project and that it cannot be one."
Arranging festivals of this level requires a lot of work. How do you manage?
"I am responsible for the artistic direction, but the rest is done by Domus, an agency which does the administration, ranging from visas for foreign guests to transportation. We have successfully worked with them before."
Do the performers get paid?
"Absolutely. This is not a charity project. It was stated so from the beginning. If you pay nothing, you are not in a position to make demands. We pay normal fees."
Are you trying to please serious music lovers or people who want entertainment?
"We are trying to strike a balance between popular music which is associated with Strauss' name and unknown or less-known works which could attract professionals or serious music lovers. We are rather insistent in promoting this. For example, two years ago we put together a program of romances composed to poems by Olga Smirnitskaya, the woman Strauss was in love with. The hall was not full. We put this program on again and this time the hall was full. So our festival also has an educational goal which hopefully will bring us serious music lovers."
Has the popularity of the festival increased or remained stable?
"It grows. I was pleased when tourists from Novosibirsk called us, to ask where they can buy tickets for the whole series of concerts. People from Karelia and Arkhangelsk did the same. Many concerts are sold out."
Does the festival still have ties with Vienna?
"Certainly. Viennese musicologists help us to locate rare music scores and Viennese conductors show us their manner of conducting Strauss' works. The schools are different."
Are Strauss' descendants involved as well?
"He did not have children. But his brothers did and yes, their descendants are involved. They are here now in the city and are attending our concerts."
News source: times.spb.ru


Print this news
---
Culture news archive for 18 July' 2007.
Culture news archive for July' 2007.
Culture news archive for 2007 year.