Culture news
Paratroopers Defend 'Disorderly' Holiday
08.06.2007 14:15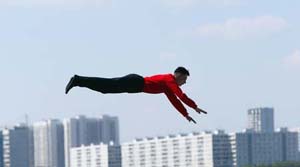 By Ali Nassor
The Leningrad Military District Airborne Unit will for the first time in the post-Soviet era celebrate its holiday with legally-sanctioned events on Thursday, following the passage of a law by the St. Petersburg parliament earlier this month that recognizes the 77-year-old Paratroopers' Day in line with the Army and Navy Days.
The Russian Navy marked its national day on Sunday.
"We have been tirelessly fighting for legal recognition to enable us, among other things, to secure funds from the St. Petersburg administration to support the day's event," said retired paratrooper, Lieutenant General Vladimir Sukhoruchenko at a news conference last week.
Asked whether the paratroopers, whose hard-man antics during the holiday on the streets of St. Petersburg has lead to a fearsome reputation, were acting illegally before the passage of the law, Sukhoruchenko said: "It's more a question of administrative regulations, rather than legislative in its strict sense."
City Hall has for the first time contributed 300,000 rubles ($11,500) to the day's events, Sukhoruchenko said.
He declined to disclose the total budget of the occasion, but said the majority of it is made up of contributions from non-commercial military organizations such as the Union of Afghan War Veterans and the Blue Berets' Military Patriotic Club.
"We are role models for youngsters who would otherwise be considered social outcasts and show how they can be transformed into real and brave men, patriots who are proud of their country and ready to give their lives for the sake of the motherland," said ex-paratrooper Valery Andreyev, the director of a club that recruits future paratroopers from the ranks of under-privileged children in St. Petersburg and the surrounding area.
"Some of these kids have even spent terms in prison, but we help make them grow into loyal and useful citizens after laws, prisons and traditional methods have failed," he said.
Public opinion is traditionally mixed about the way paratroopers celebrate their day, with some people perceiving their presence on city streets as threatening.
But Sukhoruchenko said the widely perceived notion of paratroopers on a "drunken spree, going on the rampage, causing public disorder and violent street confrontations with policemen" were wrong and called upon the public to distinguish between real paratroopers and imposters.
"The police are right… they are doing their job in dealing with bunches of hooligans who dress like us and pose as paratroopers to tarnish our image," he said.
Paratroopers wear distinctive blue berets and striped jerseys, but other armed forces units wear the jerseys and other parts of the uniform can easily be obtained.
About 9,000 police will be deployed in Palace Square and the Central Park of Rest and Culture, or TsPKO, to maintain public order, said Sukhoruchenko, who is also the current deputy chairman of City Hall's Committee for Security, Law and Order.
Police will also be deployed on Millionnaya Ulitsa where a march to Marsovo Pole is expected to be staged.
Thursday's events, according to Sukhoruchenko, are also dedicated to the 100th anniversary of the birth of Airborne Commander Vasily Margelov, a revered military scientist who commanded the division during the Siege of Leningrad during World War II.
Events planned include parachute maneuvers on Krestovsky Island, martial arts and the related sports competitions involving participants from Europe and Asia, a motor rally, musical entertainment and theatrical shows on Palace Square and TsPKO.
The Soviet Airborne Division was born out of a small parachute-training unit, which was set up at an airfield near Voronezh in central Russia on August 2, 1930. But it was in the Leningrad suburban town of Pushkin where the small group of paratroopers grew into a brigade, marking the beginning of one of the Soviet Union's most powerful military divisions.
Currently, there are about 32,000 paratroopers including new recruits and 2,500 members of related organizations in the St Petersburg Military District, Sukhoruchenko said.
News source: times.spb.ru


Print this news
---
Culture news archive for 06 August' 2007.
Culture news archive for August' 2007.
Culture news archive for 2007 year.