Culture news
Open days
08.17.2007 15:29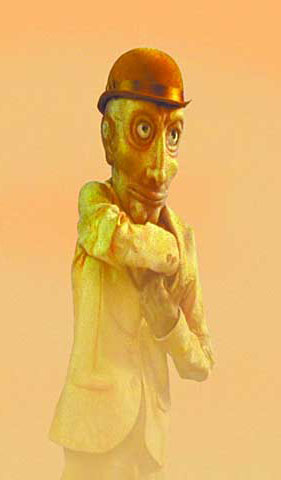 The Open Cinema festival that takes place this week earns its name. The event is open to ideas, open to interpretation — and at least half of it takes place out in the open.
Although something of a mixed bag, the organizers have put together a program of short films that divides along genre lines and includes fiction films, video-art/experimental films, non-fiction films and animation. On Friday, Saturday and Sunday these will be screened on the beach of the Peter and Paul Fortress while throughout the rest of the week until Aug. 25 the film programs will be shown at the Rodina and Dom Kino art house cinemas. But Open Cinema, a restless endeavor during the deadest week during St. Petersburg's deadest month, when many city residents are relaxing outside of the city, doesn't stop there. Its WhiteSky strand that takes place before the 10 p.m. beach screenings features street theater, clowning, puppetry and buto performances.
Journalists were given a taste of what these performances entail on Tuesday at Bridge Lounge, the tented restaurant near the Peter and Paul beach that will also serve as Open Cinema's so-called VIP Zone, when Royal Giraffe gave a small show. Lead by clown Stanislav Barkki, this Estonian outfit offers a creepy morality tale about a Pierrot, his female counterpart, a devil and angel. The four move to New Age music, relating to each other and the audience in a manner that suggests both menace and sexuality. It also involves a set of paper fans.
The WhiteSky performances start at 8.30 p.m. on Friday, Saturday and Sunday and also include acts by Tagin, two dancers from Israel, the Fifth Wheel puppet ensemble from Germany and Japanese buto performer Ken Mai.
In a feat of logic, the organizers have called the film screenings on the beach, the BlackSky component of the festival. On Friday, the theme of the night is "Him and Her" and the 20 short films that will be shown originate from Russia, Europe and the U.S. A highlight, as recommended by Lyudmila Lipeiko, the general director of Art Bereg, the arts organization behind Open Cinema, is "Target" (2005), a six-minute film by Czech director Milos Tomic. The poignant film depicts the sad farewell from a man drafted into the army to his lover.
Saturday's program has been put together under the theme "Actions." Among the 17 films set to be screened is Peter Freund's "Karl Marx Platz 1999." The U.S. film maker, who visited St. Petersburg earlier this year, is known for his artful meditations on the human body and his 1 minute 30 second video film focuses on an immobile statue of Marx as history passes it by.
Neatly, Sunday's program is organized around the idea of "Time." Polish animator Marek Skrobecki's "Ichthys (Fish)" is among the 19 films showing and presents a Godotesque parable about waiting, hope and fulfillment.
From Tuesday, Open Cinema moves indoors for a week of nightly screenings that includes all manner of programs selected from short film festivals previously shown at other such events from around the world, plus retrospectives of the work of two St. Petersburg directors, Irina Yevteyeva and Sergei Debizhev.
Open Cinema is supported by the French Institute, the Goethe Institute and St. Petersburg's Spanish Club, and the number of international films to be included is impressive. The Spanish Club has sponsored an eye-catching program of Latin American cinema that includes a selection of recent Argentine short movies.
On Tuesday, Wednesday, Thursday and Friday screenings begin at 7 p.m. at Rodina cinema center while on Friday, Saturday and Sunday the festival decamps again and goes up three floors to the Dom Kino screen in the same building at 12 Karavannaya Ulitsa. The Dom Kino screenings on Friday and Saturday are for dedicated cinephiles who don't mind missing out on a couple of night's sleep: the programs begin at 11.50 pm with the last batch of films starting at 4.20 a.m. on both nights. On Saturday night, the very last films to be shown will be soothing and fascinating underwater films.
Now in its third year, the Open Cinema festival has introduced an element of competition, although the prizes that an expert panel will award are described as "symbolic."
With a witty title that will appeal to Russian jurors and general filmgoers, John Cannizzaro's "50 Feet that Shook the World" is one of the festival's little gems. Described as a "stop-motion homage to silent Russian classics" the film takes "a twisted look at the ongoing war between film and video." The film can be seen on the beach on Sunday.
Open Cinema Festival August 17-19 and August 21-25. Tel 600 1502. www.artbereg.ru, www.opencinema.afisha.ru
News source: times.spb.ru


Print this news
---
Culture news archive for 17 August' 2007.
Culture news archive for August' 2007.
Culture news archive for 2007 year.