Culture news
Wunder kind
08.27.2007 15:51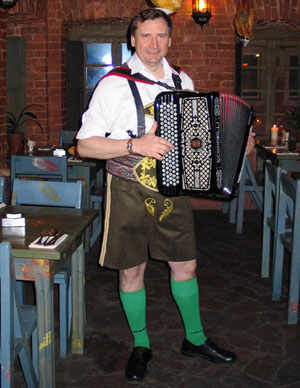 By Angelina Davydova
Special to The St. Petersburg Times
Wunderbar // 9 Dobrolyubova Ulitsa. // Tel: 232 5523 // Open from 11 p.m. through 1 a.m. // All major cards accepted // Dinner for two with wine 1,450 rubles ($56.40)
Wunderbar, laboriously stretching a pun, can be interpreted both as "wonder bar" and as "wonderful," and indeed the slogan of this new nightspot, written above the entrance is "life in wunderbar!" The Germany-themed place, not far from Sportivnaya metro station, is located on the ground floor of an old Jugend-stil house and is typical of the Petrograd side.
Despite the name, Wunderbar is more of a café or restaurant, rather than a bar: the traditional bar itself is substituted with six large wooden tables, while the atmosphere suggests an intimate talk with friends over a wine glass, rather than loud youths drinking beer, singing and dancing.
In contrast to traditional German -style bars with a Wohnzimmer (living-room) atmosphere (with or without food) in St. Petersburg, such as Datscha up to Gosti, Wunderbar is more formal and glamorous.
Visitors are mostly middle-age upper-middle class men, dressed casually, talking non-stop on mobile-phones (luckily, quietly), either making business or private arrangements or complaining about the meaningless of life.
One of the most remarkable details about Wunderbar's design is an old-style cupboard with wine glasses, standing right in the center of the bar. It fits well with the small candles, placed on every table, and comfortable sofas, all of which create a homey atmosphere.
Another large element of the decor is a big TV screen broadcasting music channels, even though the actual musical background in the bar may be different. A DJ plays lounge or easy listening in the evening.
Wunderbar offers a good selection of salads and starters, at the price range between 100 and 300 rubles ($3.80 till $11). A vegetable salad (140 rubles, $5.40) of green leaves with fresh asparagus, green onion, tomatoes and red peppers in balsamic vinegar dressing and a tomato soup (160 ruble, $6.20) are both sharp and nourishing.
The selection of main courses is limited to three types of fricassee — chicken, seafood and pork in a sweet-sour sauce (290 rubles, $11.30). Garnish is not to be found — neither on the plate, nor on the menu. The dessert section (200-300 rubles, $7.78 till $11.60) is mainly represented by fruit salads, ice-cream and a cheese-cake.
The beer selection is limited to Czech and French beers, costing 120 rubles ($4.60) per half a liter, while Cuvee Pierre Reserve also costs 120 rubles per glass.
Wunderbar can be certainly recommended for a relaxing evening with a glass wine and light meal, especially, after a hard-working day but don't expect to find young loud crowds.
The staff are polite and considerate while being relaxed and informal, with young waiters in black uniforms enjoying themselves and the music no less than the guests.
A word of warning, however: on the days football matches are played in the nearby stadium, or after concerts at Yubileiny hall, also across the road, Wunderbar may not prove to be very calm.
Despite its upbeat German name Wunderbar is not much like a Berlin bar, and not typical of St. Petersburg either.
Rather, it is a curious mixture of styles and tastes that attempts to produce something new.
News source: times.spb.ru


Print this news
---
Culture news archive for 27 August' 2007.
Culture news archive for August' 2007.
Culture news archive for 2007 year.