Culture news
A mystery island
09.06.2007 16:12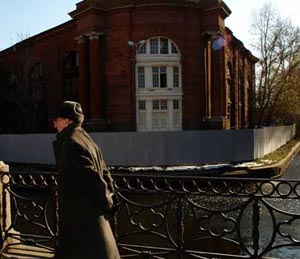 By Sophia Kishkovsky
Photo by Valeri Nistratov
New Holland, an artificial island at the convergence of two canals that was created by Peter the Great in 1721, is poised to become one of the most dramatic redevelopment projects in post-Soviet St. Petersburg, thanks to both its unusual historical architecture and to the big names associated with the venture.
The island, around the corner from the Mariinsky Theater, is being developed by Shalva Chigirinsky, a billionaire whose ST Development has made a big splash with projects in Moscow.
And he commissioned Foster and Partners, the London-based architectural firm headed by Lord Norman Foster, to create the design that ultimately won the city's competition for the rights to the redevelopment. Foster's firm is famous for a variety of high-tech commercial and residential buildings, including Commerzbank in Frankfurt and 30 Saint Mary Axe, the London skyscraper known as the Gherkin.
Foster, speaking about the 7.6-hectare, or 18.8-acre, project at a conference in Moscow, said the intent of the mixed-used design was "to create an urban magnet which will relate to the nearby Mariinsky Theater and the Hermitage, to establish a new cultural quarter for the city."
New Holland, Novaya Gollandiya in Russian, was named to reflect Peter's love of Holland, where he studied shipbuilding.
ts most recognizable feature is a red archway designed by Jean-Baptiste Vallin de la Mothe, an 18th-century French architect, that spans the canal entrance and has been immortalized in numerous famous works of Russian art.
"It is regarded as the most vivid example of classical Roman scale in St. Petersburg," said Semyon Mikhailovsky, an architectural historian and vice rector for external relations at the St. Petersburg Academy of Arts. "It's said that classicism came through this triumphal arch to Petersburg."
Chigirinsky has created a company called ST New Holland to handle the $320 million redevelopment, which is set to turn the island into a mix of cultural, retail, hotel and restaurant space by 2010. A total of 200,000 square meters, or 2.15 million square feet, is planned.
Some demolition has already been done on selected sites, but general construction is not scheduled to begin until December.
"This is a very important and landmark project for St. Petersburg," said Oleg Barkov, general manager of the St. Petersburg office of Knight Frank, a British real estate brokerage that served as independent consultant for the city's New Holland investment tender.
Barkov said the project had a good chance of being completed with relatively few problems and would transform the depressed area around the Mariinsky Theater.
"This is the first example in St. Petersburg - I hope the first successful example - of a huge project by one of Russia's largest developers and a world-renowned architect," he said, noting that other projects have had problems. "Here there are all the prerequisites for smooth development."
Vladimir Sergunin, an investment analyst with the St. Petersburg office of Colliers International, a property services company, said: "It will be a very significant space, and such new inflow of commercial real estate capacity will make central districts of the city even more attractive for business function."
Knight Frank estimates that the project may increase housing prices in the district, known as the Admiralteisky Rayon, by as much as 25 percent. They already have risen 5.4 percent in the first six months of 2007.
Other redevelopment projects also are being planned in the area, most notably a mixed-use development called Moika/Glinki that is being handled by Ruric Management, the Russian arm of a Swedish-based investment company focused primarily on the St. Petersburg market.
It is expected to cost as much as $400 million and to have 200,000 square meters of entertainment, retail, housing, hotel and office space.
A cultural component was a prerequisite of the city's investment and architectural tender for the New Holland property, but Chigirinsky upped the ante by announcing that he would triple the planned space for cultural purposes to 30,000 square meters from the original 10,000 square meters. Once completed, a festival palace there will be able to hold as many as 2,500 people.
The redeveloped island also is to feature an amphitheater around the canal basin that can be used as an ice rink in winter. A former prison building is to be turned into a theater in the round.
Chigirinsky also is planning cultural facilities at Zaryadye, another mixed-use project that he is working on in Moscow. Zaryadye is being developed on the site where the Soviet-era Rossiya Hotel once stood, behind Red Square, and it also is being designed by Foster and Partners.
"At both sites we have dramatically increased the cultural element," he said at a news conference in Moscow. "The proportion of cultural establishments has doubled. This speaks of the fact that we, as developers, are trying to prove that a major magnet like culture can pull in business."
Chigirinsky, who said he would not ask for state money for either project, is planning to turn the New Holland festival palace over to the federal government when it is completed.
A modern art museum slated for the New Holland grounds will be the contribution of Stella Kesayeva, the wife of Chigirinsky's billionaire business partner, Igor Kesayev. Kesayeva is known for her art collecting and exhibition spaces in Moscow.
Both Barkov and Mikhailovsky called the showcasing of culture a potential weak link in the New Holland project.
"From the point of view of the city and of the community, it will be very good to have such spaces for cultural functions," Barkov said. "But will they be filled? Will they be attractive to citizens? We're living in a time when high art is not so much in demand."
At a party on the island in June, marking the last day of the Kremlin-backed St. Petersburg Economic Forum, Deputy Prime Minister Sergei Ivanov praised the redevelopment.
RIA Novosti, a state news agency, reported that Ivanov, a Petersburg native, said: "Now we've entered the last stretch, when in two to three years there will be a major masterpiece here, preserving all of its beauty, which guests and residents of St. Petersburg will visit with pleasure."
In 2004, during Ivanov's tenure as defense minister, the Russian military turned the island over to the city of St. Petersburg. For hundreds of years it had been off limits, a mysterious, almost ghostly place that was visible to anyone but where ordinary residents were not allowed to go.
Valentina Matviyenko, the city's governor and, like Ivanov, a close ally of President Vladimir Putin, is credited with finessing the negotiations needed for the redevelopment. When the work is complete, the island will be accessible to the city's four million residents for the first time.
Structures on the island include several 18th-century timber warehouses whose huge interiors were created to store timber vertically. They will be restored for retail, restaurant and hotel space; the names of the operators have not yet been announced.
The New Holland project is notably different from plans by the Russian natural gas giant Gazprom. The Kremlin-controlled company wants to build a 320-meter, or 1,050-foot, skyscraper - critics have dubbed it a giant corn on the cob - that would loom over every other building in St. Petersburg. There will be no skyscrapers at New Holland.
"We respect the low-rise urban grain of the city and we seek to continue the spirit of that master plan," Foster said.
But New Holland's arrival on the heels of the Gazprom proposal has only deepened some people's suspicions.
"That old Petersburg, with its empty squares and abandoned poetic corners full of picturesque ruins, it's being torn down," Tatyana Moksvina a St. Petersburg cultural and social commentator, wrote in an article titled "How the New Russia Tore Down New Holland."
"Everything will spin and shine according to European standards," Moksvina wrote. "This is called 'reconstruction' and 'development.' "
Yelena Mikhailova, an archeologist who has been leading a dig at New Holland this summer before work begins on a 1,000-car underground garage, is not so sure about the architectural consequences, but says construction in the city has been a plus for archeology.
"We discovered that, aside from the heights of imperial culture, there was normal everyday life of which we knew very little," she said.
Plans call for the artifacts uncovered in the dig to be displayed at New Holland once the redevelopment is complete, said Gregory Ingleright, a consultant on the project.
News source: iht.com


Print this news
---
Culture news archive for 06 September' 2007.
Culture news archive for September' 2007.
Culture news archive for 2007 year.