Culture news
Life through a lens
09.06.2007 15:07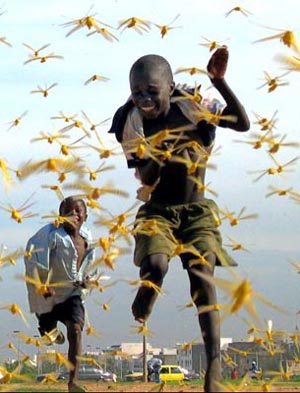 By Ali Nassor
Special to The St. Petersburg Times
Work by the world's best photojournalists are on display in St Petersburg, offering viewers both bitter and sweet memories of the world in 2006.
The World Press Photo 2007 exhibition at the Museum of the St. Petersburg History displays the best 200 from a collection of 78,083 photographs published in print media last year. About 4,460 professional photojournalists from across the globe submitted their work to the 50th annual competition that was held in February in Amsterdam.
The photographs reflect the world in a nutshell, covering everything from the material, spiritual and moral worlds to sports, entertainment and culture. Their creators went deep into the inland of the six continents and the bottoms of oceans to explore the secrets of both terrestrial and maritime life.
However, the display, in the Commandant's House of the Peter and Paul Fortress, is mainly a catalogue of calamities with images of hunger, refugees and desperate migrants, and wars in Africa, Middle East and Afghanistan.
One of the dozen shots reflecting the world at war in 2006 was named photo of the year. The photograph, by Getty Images photographer Spencer Platt, shows a group of youths driving past the rubble of a destroyed building in Beirut following an Israeli air attack immediately after a ceasefire was reached between Israel and Hezbollah militant group on August 15 last year.
Also depicting war is Per-Anders Pettersson, of Swedish Getty Images, who takes a visitor to the streets of Kinshasa, the capital of the Democratic Republic of Congo to witness a nine-year-old girl smoking a cigarette in a company of her two fellow homeless children forced into prostitution as a result of a decade of civil wars there. "There are tens of thousand of orphans and abandoned children in this country," the caption reads.
Davide Monteleone of Italy's Contrasto joins Platt in his coverage of the war in Lebanon. He takes a visitor back to the July 12 bombardment by the Israeli forces of the cities of Qana, Tyre and Bent Jbail. In Bent Jbail, Monteleone shot an image of an elderly woman fleeing the bombed city.
His images of horror include of a week-old infant buried in a mass grave. In another, a man carries the body of a girl. She was one of dozens of victims of the Israeli air attack on a three-story building sheltering a large number of refugees in Qana. Monteleone also shows rubble from a building brought down by an Israeli aerial strike on the city of Tyre — one of the worst affected cities in the 34-day war.
Lying on the main road of the same city on August 6 is the body of a victim of an Israeli rocket attack, a photograph published both in Newsweek and The New York Times, by Paulo Pellegrin of Italy's Magnum Photos.
Moises Saman of Spain's Newsday takes the viewers on an excursion in Afghanistan, five years after the U.S.-led invasion to oust the Taliban. He shows images of women wearing traditional burqas walking past a Kabul government building destroyed in the 1990s civil war before the current war. In the city of Gardez is another image of a building damaged during the same time. Machine gun ammunition lying on a sandbag, in a position overlooking a mountain passage on the Afghan-Pakistani border used by Taliban insurgents is typical of modern Afghanistan, through Saman's lens.
Arturo Rodriguez of The Associated Press eyewitnesses Spanish security forces and Red Cross workers attending to a group of starving and dehydrated African migrants who have just arrived on La Tejita beach in Tenerife, Canary Islands, aboard small wooden fishing boats across the 1,000 kilometer channel from West Africa.
But good news comes from Europe. In Paris, Denis Darzacq of the Agence Vu takes shots of street dancers displaying their skills at breakdancing, capoeira and other personalized dance forms. While in Germany, David Klammer of Germany Vision sends his viewers to the World Cup Finals. His three photos depict mixed emotions of the fans depending on the country they support. In one, a German girl is applauding her team for a win, but in another is a Brazilian man carrying his nation's flag in a mood of uncertainty. In a third, a Mexican couple shed tears after a loss.
In Grazia News for L'Equipe, Guardian Weekend, Sports Illustrated and Stern, Mathias Braschler and Monika Fischer of Switzerland published portraits of David Beckham immediately after his Real Madrid 4-0 win over Deportivo last year, Chelsea's Didier Drogba's after a 2-0 victory over Portsmouth and Carles Puyol's after his FC Barcelona's 5-0 win over Real Sociedad, as well as other soccer players.
World Press Photo runs until Sept. 8
News source: times.spb.ru


Print this news
---
Culture news archive for 06 September' 2007.
Culture news archive for September' 2007.
Culture news archive for 2007 year.