Culture news
Hermitage Chief Slams Rink Plans
09.28.2007 15:57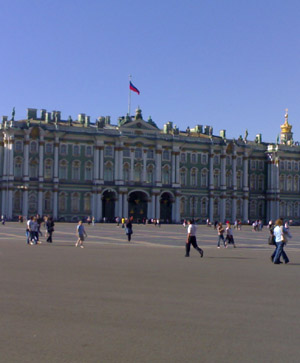 By Irina Titova
Staff Writer
The State Hermitage Museum and St. Petersburg authorities have clashed over plans for the construction of a skating rink this winter on the city's central Palace Square.
"We will suffer moral damage and St. Petersburg's reputation as an intellectual city will be lost," Mikhail Piotrovsky, director of the Hermitage, told Gorod magazine in response to plans to put an ice rink in front of the world famous museum.
"To have a skating rink covered with advertisement banners for four months [of the year] is against the cultural spirit of St. Petersburg," Piotrovsky said.
However, Governor Valentina Matviyenko said it was a good idea and that "public squares work for people" all over the world, Interfax said.
"Let's cover Palace Square with a glass roof and not let anyone in there at all. Then we won't have any problems," Matviyenko said cuttingly of criticism of the plan. "One must understand that Palace Square is not a square for individual people or heads of some institutions. This is a square for people. "
Matviyenko added that the skating rink would be a temporary stucture allowing people to "relax and skate in the middle of such beauty."
The skating rink is due to open in December and to operate for 120 days, Oleg Vdovin, spokesman for City Hall's Sports Committee, said. Ticket prices will be "minimal," Matviyenko said ,with children under seven, war veterans and other priviliged citizens will be able to use it for free. Two hours of skating will cost 100 rubles for students.
The idea for a skating rink, which will be located in the center of the square around the Alexander Column, came from the Sports Committee and the businessman Mikhail Kusnirovich, head of luxury goods retailer Bosco di Ciliegi, Fontanka.ru said.
Kusnirovich organized a skating rink on Moscow's Red Square last winter, and was also an official sponsor of the Russian Olympic team at the last Winter Games in Turin, Italy.
"It was very hard for us to find a company to back the project," Matviyenko said.
Sports Committee chairman Vyacheslav Chazov, reacting to Piotrovsky's criticism of the plan, said that Palace Square should not be "conserved," Fontanka.ru reported.
"Palace Square lives. It's for people. Many events, including sporting events, take place there. Besides, we don't see anything bad in having people skate or have a cup of coffee in little pavilions," Chazov said. Special cleaning machines, toilets and other infrustructure will be installed, he said.
Sports Committee spokesman Vdovin said he was sure "not a speck of dust, not a gram of stucco at the Hermitage will be damaged by the project."
Piotrovsky said that he didn't object the idea of installing a skating rink on the square for three or four days to host performances by leading figure skaters. However, he said he was against the construction of a semi-permanent rink because it would also demand big construction activities that would disrupt the view of the square.
Piotrovsky suggested instead that St. Petersburg could use its rivers and canals, which are frozen in winter, for skating.
"There's a great idea… why not use our rivers and canals for the purpose. It will attract tourists during the dead season," Piotrovsky told Gorod magazine.
Piotrovsky has often objected to public events on Palace Square, including film festivals and concerts, saying loud sounds could cause damage to the museum's collection and also spoil the image of the city's main square.
However, in recent years the square still hosted music stars such as Paul McCartney and Rolling Stones, as well as beer festivals.
City residents are divided about the skating rink, although some have expressed excitement about it.
"I'd love to skate on Palace Square!" said Vera Vorobyova, 30, an interpretor on Thursday. "It would be so great to enjoy skating and the grandious view of Palace Square."
Ivan Safronov, 33, said he saw no problems in having a skating rink at the square.
"I don't see how the skating rink can spoil the view of Palace Square in winter. I'd skate there with pleasure, too. My only concern is where to park a car there when I come with skates and my family. The metro station is also quite far away from there," he said.
News source: times.spb.ru


Print this news
---
Culture news archive for 28 September' 2007.
Culture news archive for September' 2007.
Culture news archive for 2007 year.