Culture news
Abusing the System
02.15.2008 08:45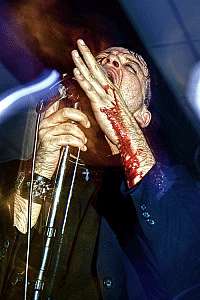 The politically vocal punk band Posledniye Tanki v Parizhe, or PTVP, has released a new album called "Mirror," which singer Alexei Nikonov calls the band's musical and lyrical manifesto, as well as its first "mature" album. Two weeks after its release party in St. Petersburg, the band will launch the album at Tochka on Sunday.
Last year, the prolific band put out a bare-bones studio album called "Freedom of Speech," but the new record takes a different approach, Nikonov said in an interview this week. "'Freedom of Speech' was sort of a farewell to our youth, to our early years, to the do-it-yourself approach. We recorded it for $20."
"There was a short stretch of time between the two albums -- around six months -- but you'll see how our attitude to everything has changed," he said.
One of Russia's very few politically outspoken bands, PTVP is perhaps best known for its Sex Pistols-influenced punk anthem, "God Save Putin." The band's full name means Last Tanks in Paris. The opening track of the new album begins with the words "Good morning, Beslan. Good morning, Chechnya. Good morning, cops."
In the same song, Nikonov refers to Russia ironically as "My free country" and yells out the chorus: "1,000,000 kilometers of shit." Before launching into a psychedelic break, he just has the time to belch "glasnost."
"It's to remind people that we used to have something similar to freedom," he said.
The rest of "Mirror" is mostly existential urban poetry, set on the dark streets of St. Petersburg, inhabited by blue-collar workers and policemen. "On the album, I'm trying to talk about what's around me," Nikonov said.
"In this sense, I'm doing hip-hop rather than rock. Why is hip-hop so popular with young people? Because it speaks in the language of the street, while rock has ceased to be the mouthpiece of the street. This album is an attempt to return rock into the street," he said.
PTVP started out in 1998. The band members come from Vyborg, a city near the border with Finland. Three years ago, they relocated to St. Petersburg.
Having gone through many lineup changes, the band now features bassist Yegor Nedviga, drummer Denis Krivtsov and guitarist Anton "Bender" Dokuchayev, who joined in 2005.
"We like our current guitarist so much," Nikonov said. "We have a struggle on the stage going on at the moment. I got used to being the leader, but now he often dominates. So we are kind of fighting for leadership on stage, which creates more energy."
The new album was recorded in a St. Petersburg studio that is located inside a functioning Lutheran church. Musically, it is a combination of punk minimalism and psychedelia, Nikonov said. He pointed to the influence of the band's heroes such as The Stooges, Joy Division and Bauhaus, as well as the early releases by Television and The Cure.
"We were trying to combine the two incompatible things: punk minimalism and psychedelia. We were trying to sound like Jimi Hendrix playing in Joy Division," he said.
"We didn't attempt to play retro music, but it's our homage to the bands we listened to in our early years, musically. Those musicians were radicals, both in their views and music. In this sense, we're also one of the few radical bands in Russia."
News source: Themoscowtimes.com


Print this news
---
Culture news archive for 15 February' 2008.
Culture news archive for February' 2008.
Culture news archive for 2008 year.