Culture news
Handmade festival
08.23.2008 08:30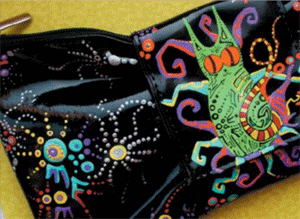 A new festival this Saturday in the very heart of St. Petersburg is called "De La' Ruk," which means handmade. The event aims to put together professionals and amateurs, who wish to show their works in different areas of design and applied art, lovers of unique things, representatives of design schools and shops that sell handmade goods.
Throughout the day visitors will be able to see the exhibition of handmade designs (bags, jewelry, various accessories, unique toys and dolls, souvenirs etc). The organizers, the Agency of Active Communication, have said there will be a range of different master classes for both children and adults in woodworking, pottery, applique, airbrushing, lamp-making and other and handicrafts. Everybody will get the chance to express themselves: baseball caps and acrylic paints will be distributed to all who wish to express themselves.
The festival will conclude with catwalk shows of various St. Petersburg designers. The creative groups "Glory Box," "Dream Stone," the "Veshch" anti-boutique, Marina Bondareva, Elena Strelets, and other young designers will present their street fashion collections. Pentax will provide photographic services for participants of the catwalk shows and also for all the guests who come dressed unconventionally, and there will be a photographic exhibition of street fashion.
Before now there have been few events dedicated to handmade products in St. Petersburg, and the "De La' Ruk" experiment might become an annual festival with a growing number of participants. The festival will be an opportunity for designers to meet potential clients and colleagues and share ideas about latest trends, materials and technologies.
However, the "De La' Ruk" event on Saturday, however popular it might become, is only the first step toward putting together a community of creative individuals and companies. The idea is to create a creative cluster in one of the former industrial areas of St. Petersburg. While the U.K., Finland and other countries have creative industries at the peak of their development, in Russia the awareness of the potential of this sector of the economy is only starting to grow.
In Moscow, the process has already begun: for the last few years ART PLAY, the VinZavod Center of Contemporary Art, Art Strelka and other organizations have shown that there is a demand for art and design among tourists and others interested in contemporary culture; at the same time they have fostered the development of areas which had not been popular before.
St. Petersburg, with its many dozens of former industrial buildings and zones, has the potential to use them as spaces for small and medium-sized creative companies in design, music, and so on. This would save the original aesthetic of industrial architecture, develop the businesses by sharing resources and give a powerful impulse for the regeneration and economic growth of neglected parts of the city.
It is hoped that "De La' Ruk" festival will presage the arrival of the FREE'k BAZAR design market in one of St. Petersburg's former industrial zones. The project's inspiration is Camden Lock market in London, with its endless variety of design and music shops, bars with gigs every day, representatives of different subcultures, young creators and tourists.
"De La' Ruk" takes place from 11 a.m. to 9 p.m. on Saturday in the left-hand courtyard at 32 Nevsky Prospekt. Free entrance.
News source: Times.spb.ru


Print this news
---
Culture news archive for 23 August' 2008.
Culture news archive for August' 2008.
Culture news archive for 2008 year.