Culture news
Banana Mogul Bankrolls Opera in St. Petersburg
07.12.2010 17:11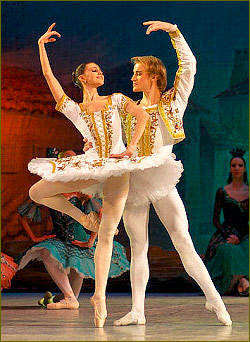 The Joint Fruit Company, or JFC, imports every third banana that comes into Russia, and its principal owner, Vladimir Kekhman, doubles as director – and major benefactor – of St. Petersburg's state Mikhailovsky Theater, which once had to survive on meager City Hall funding.
While it's not unusual for major businesses to support the arts, company executives who take the reins of a cultural establishment are few and far between.
Kekhman left his job as chief at JFC, which is responsible for 36 percent of banana imports to the Russian market, in favor of running the theater in 2007.
"There is such a notion as being 40 years old," Kekhman, 42, said in a recent interview at the theater. "Many people, including myself, begin to think about what's next. When I learned about the theater and saw it, I realized that I belong here."
"I liked the address – No. 1, Arts Square," he said in a stage voice, which blended well with his suit and bow tie, adding that he hadn't been inside until he received the appointment.
Mikhailovsky receives enough money from City Hall to stage one premiere a season. Even so, it is on track to stage six such performances – including Peter Tchaikovsky's ballet "Swan Lake," Antonin Dvorak's opera "Mermaid" and Giuseppe Verdi's "A Masked Ball" – by the time the season is over later this month, thanks largely to Kekhman's personal contributions and money from other donors, channeled through a support fund.
The theater had been in the doldrums before Kekhman took over and has improved since then, especially in ballet production, said theater critic Raymond Stults, who also writes reviews for The Moscow Times. It remains in an inferior class though, if compared with Mariinsky or Bolshoi theaters, he said.
"The ballet is OK. Their 'Swan Lake' has been considerable success," Stults said, adding that he based his asses­sment on opinions in the community of critics.
Kekhman valued JFC's sales last year at $680 million, saying the company controls 5 percent of the global banana-growing market. While it is the biggest Russian banana trader, it ranks below global leaders Dole, Chiquita and Fresh Del Monte in terms of sales.
JFC also sells bananas under the brand named Bonanza in European countries such as Italy and Austria, as well as in the Middle East, including Iran and Iraq, and former Soviet republics.
In his artistic capacity, Kekhman recently drew the spotlight when Prime Minister Vladimir Putin attended a charity concert hosted by the theater on May 29. During tea before the concert, he witnessed the tense exchange about democracy that erupted between Putin and rocker Yury Shevchuk, front man for the band DDT, who challenged the authorities for blocking political opponents from rallying.
Commenting on the conversation – where Putin largely defended the practice of breaking up opposition protests, citing the need to discourage traffic disruptions – Kekhman described it as "brilliant" and "democratic," but declined to say whom he supported.
"It was a talk of two men. One of them asked questions and got answers," he said. "It was proper in form. I have no comment as to the content."
The day after Putin and Shevchuk spoke, police violently dispersed opposition protests in Moscow and St. Petersburg, detaining more than 180 and prompting a public outcry.
Over the tea with artists in May, Kekhman asked for a law that would govern theaters specifically and called for the government to withhold potential cuts to the country's culture budget. He spoke after Shevchuk.
Putin answered that he was unsure whether such a law would do any good and said spending on culture decreased this year because of the need to reduce the budget deficit. He separately told Kekhman, jokingly, that the banana business benefited from the recent opening of a shipping line between St. Petersburg and Ecuador, raising expectations of more theater donations from Kekhman.
Putin also praised Kekhman for the theater's better maintenance and repertoire.
"It's an evident fact," Putin, who previously hadn't been known as a theater connoisseur, said about the improvements. "It's definitely so; one can see it with the naked eye."
As soon as Kekhman assumed the office, he hired stars, including the Mariinsky Theater's principal dancer Farukh Ruzimatov and Bolshoi Theater's outstanding mezzo-soprano Yelena Obraztsova, to help with productions. Famous Slovak maestro Peter Feranec joined the theater last year as chief conductor, as did renowned Russian-born choreographer Mikhail Messerer.
Stults said Feranec's tenure at the Bolshoi last decade turned out to be a "tremendous failure," but he described Messerer as a very capable specialist.
Kekhman also bankrolled a costly renovation.
All that, coupled with a drastic rise in attendance, allowed him to say that the theater, once frequented by Tsar Nicholas II, reclaimed its fame as the city's "high-society theater of choice."
"We think that's what things were like in the imperial theater," he said, before quickly calling a visiting Ecuadorian ambassador. "I think that's how things must be in an imperial theater."
With tickets selling in the range of 200 to 2,500 rubles ($6 to $80), however, the theater is affordable not only to the well-heeled crowd, but also to those on a budget. Unlike many other establishments in St. Petersburg and across Russia, it doesn't charge a separate, higher admittance fee for foreigners.
News source: The Moscow Times


Print this news
---
Culture news archive for 12 July' 2010.
Culture news archive for July' 2010.
Culture news archive for 2010 year.