Printed from: http://petersburgcity.com/news/culture/2010/10/05/Boomfest_051010/
Culture news, 05.10.2010 02:45
Comics Festival Boomfest Held in Petersburg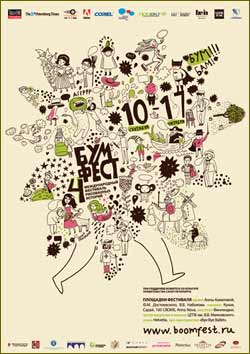 Boomfest - international festival of cartooned stories - is being held in Petersburg. This year at has a French accent.
The festival is taking place in several venues, with the central of them in Anna Akmatova's Fountain House Museum.
"It has turned to be a festival with the French accent, - the festival director Dmitry Yakovlev said. - Artists from France, winners of prestigious European competitions have arrived for it".
The festival takes place for the 6th time already. Last year around six thousand persons visited it.
This event has no parallel in Russia. "In Moscow they have a comic book-fest, but they like to exhibit all sorts of manga mainly - the things that people are more interested in, - Dmitry Yakovlev pointed out. - As for us, we at least have works that are not so pops".
Boomfest runs till October, 17th.
News source: Guarant-InfoCentre