Printed from: http://petersburgcity.com/news/culture/2010/11/09/Mitki_091110/
Culture news, 09.11.2010 03:30
Exhibition of Mitki Art Group Marks their 25th Anniversary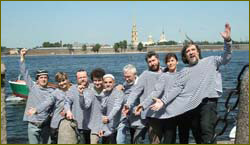 Exhibition Mitki, Stopping at 25th Aniversary dedicated to the jubilee of the art group has opened in St. Petersburg.
It has been reported at the official website of the central exhibition hall Manege, where the exhibition is held.
About 500 pictorial works by the well-known Petersburg hippy artists are displayed in the Manege. The exhibition also presents works by other Moscow and Petersburg artists who are not members of the Mitki group; their section is titled Friends of Mitki. Besides, visitors will see paintings by artists of Arefyev's Group, whom Mitki consider their teachers.
In the framework of the exhibition some films about the history and activities of Mitki will also be shown.
The exhibition will run till November, 19th.
News source: Guarant-InfoCentre