Culture news
Two Russian theater directors win Europe's prize
04.18.2011 18:16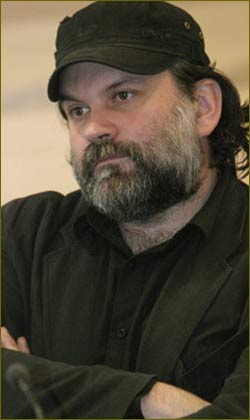 From April 12 till 17, St. Petersburg is hosting the prestigious festival of the Europe's Theater Prize. This is the first time when this festival is being held in Russia. Among this year's winners of the prize, there are two Russian theater directors – Yuri Lyubimov, the director of the legendary Moscow Theater at Taganka Street, and Andrey Moguchiy from St. Petersburg.
By a unanimous decision of the festival's jury, Yuri Lyubimov was awarded a special prize – "for a tribute into modern art and an important role which he and his theater played in the period of perestroika."
In the Soviet times, productions of the Taganka theater, often a bit too bold than it was allowed by the authorities, were extremely popular with Moscow's intellectuals. In 1984, the Soviet authorities declared the theater "apolitical". Mr. Lyubimov, who was at that time on a tour in the UK, was stripped of Soviet citizenship.
"I had to roam all over Europe like a vagabond," Yuri Lyubimov says, remembering that time. However, the renowned theater guru is obviously a bit too modest, saying this – his performances in Europe, America and Japan were always received as revelations and the houses were always full.
In 1988, in the turbulent time of Gorbachev's perestroika, Yuri Lyubimov came back to Russia – and had to face new problems. The once monolithic Taganka's troupe was at that time so much split with all kinds of scandals that the theater was on the brink of a death.
However, with a group of like-minded persons, Mr. Lybimov managed to save the theater from oblivion. The first production of the revived company was devoted to Vladimir Vysotskiy, a legendary dissident poet who himself had been an actor of the Taganka theater.
"I intended this show as a dialogue between the alive and the dead," Yuri Lybimov says. "This dialogue must never stop."
"Vysotskiy has long been dead, but I think that he is still our contemporary. It's the same like it is with another great Russian poet, Boris Pasternak, whom I was honored to know personally. A gap between generations is big but still surmountable. For example, in another our show, "Fairy Tales", actors of four generations are taking part – and each of them enriches the others with its special world outlook and experience."
At the festival in St. Petersburg, the Taganka company will show its new performance titled "Honey". It is based on an autobiographical poem by Italian writer Tonino Guerra, a friend of Yuri Lyubimov. It is a story of two brothers. When they were young, one of them, finding life in their native village not romantic, left for Rome, while the other stayed at home. Now the brothers are old, and it turns out that the real romantic is the one who has chosen the village life.
The other Russian winner of the Europe's Theater Prize, Andrey Moguchiy, won it in the nomination "New theater reality".
Here he is, sharing his vision of what this new reality must be like:
"A theater show must be provocative. It must come as a shock, to make the spectator start thinking. Sticking to the same classical models means death to a theater."
However, Andrey's show "Happiness", based on Maeterlinck's famous "Blue Bird", can come as a chock for old and middle-aged people – but hardly for children for whom it is meant. Slang, unpretentious jokes which older people will probably find stupid, colorful special effects – all this is what children are quite used to. To tell "the computer generation" about eternal values, Andrey Moguchiy chose to speak their own language.
The Grand Prize of the festival will be presented to the famous German theater director Peter Stein.
News source: Voice of Russia


Print this news
---
Culture news archive for 18 April' 2011.
Culture news archive for April' 2011.
Culture news archive for 2011 year.