Culture news
From St Petersburg to the Himalayas: an artist's journey
05.15.2012 20:35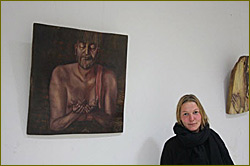 For Alla Dulh, a painter from Saint-Petersburg, India used to be just another place on her must-visit list. But four years ago she settled in Himalayas, and says "the old-world feel of Indian villages" keeps her creative juices flowing
Before she landed in the country for the first time in 2007, India was nothing more than the latest craze for Alla Dulh, a resident of St Petersburg who was on a mission to see the world. It was just supposed to be another place on the must-visit list, but the country's colours, landscapes and diversity created a powerful impression. "I realised after the trip and when I was back in Russia that it wasn't possible for me to stay away from India," says Dulh, a 29-year old artist with exhibitions to her credit in cities such as St Petersburg and Moscow. "Whenever someone from Russia asks me what I like the most about India, I say I like myself in India."
After living in India for 4 years, Dulh held her first exhibition in the country at the Roerich Estate in Naggar. The fortnight-long exhibition of Dulh's work was inaugurated on April 15, the anniversary of the signing of the Roerich Pact, a treaty to protect artist and scientific institutions and historic monuments. "The Roerich estate has some sort of micro-climate that is conducive to art," Dulh says. The paintings on display at the exhibition were all inspired by the mountain-folk of the Himalayas.
Dulh has no formal education in the fine arts and studied psychology at the St Petersburg State University before enrolling for a film direction course at the Institut Lumiere in Lyon. The paintings at the Naggar exhibition were inspired by her background in psychology and appreciation for ancient Greek art that focused on the inner beauty of a person. "The beauty of many people in India is at times invisible but lies deep within" she says. "My work is a protest against the external world and imaginary beauty – the major symbol of a consumerist society that is greedy for bright ideas, a bright appearance, behind which it is easy to hide ugly essence."
A cursory glance at the canvases and wooden boards on display at the Naggar exhibition was enough to reveal that the artist from St Petersburg likes to focus on the face and the hands of the subject. "I like to paint hands in particular because the hands show the individuality of a person," Dulh says. "All actions come from the hands and that's why I find them a great indicator of human psyche." Dulh adds that emotions are visible in the hands. Buddha's meditation mudras have also been an inspiration for her work.
Dulh prefers to not name her paintings since she says her themes are not based on conventional logic. "They are about another level of perception concerning sensitivity, emotionality and spiritual consciousness," she says. Although Dulh's paintings are "made in India," it's Russia, where they are in demand. "Russia has always had a great interest in India and has been fascinated with the Himalayas in particular," she says. The paintings from the Naggar exhibition will be on display in the Russian capital in June at the Elena Vrublevskaya Gallery, a centre that promotes contemporary artwork inspired by the artistic heritage of Oriental cultures. Her work from India has also been on display in Moscow's Shanti Club.

Life in India

Calling India home for the last 4 years, Dulh spends the warmer months of the year in the Himalayas but heads to the beach resort of Gokarna in the state of Karnataka, when the Himalayan Winter gives its Russian counterpart a run for its money. "Life for a foreigner is particularly comfortable in Indian villages," she says. Villagers are friendly but don't interfere with foreigners, since they assume most foreigners are "crazy," according to Dulh.
Although she was recently robbed by a trio in a dark alley in Naggar (what was probably the first such incident in this sleepy village), Dulh feels safe and at home in rural India. "You don't have alcoholics here like you do in small Russian villages and despite the fact that people have little material belongings, they are contented and optimistic," Dulh says. An hour after the interview, the artist and this writer had a rather harmless run-in with some highly drunk and morose Russians from the Urals.
No fan of urban India, Dulh likes the Old World feel of Indian villages, which are free from what she describes as "so-called capitalistic and globalist comforts." The artist prefers "small shops, where people want to sell you something" over supermarkets. "When I buy something, it is not just a commercial transaction like in St Petersburg but an exchange of energy," she says. "I don't have many close friends here but I like the simple day-to-day contact with people on the shops and the streets."
Dulh feels that the villages of India are a great place for artists to "find themselves," but cautions Russians from Moscow and St Petersburg about having unreal
expectations. "It takes a few weeks and sometimes months to adjust here since the sense and concept of time are very different in the Kullu Valley and St Petersburg." The artist has, however, developed a great deal of patience after moving to India. "You learn patience here and it's yours to keep," she says, adding jokingly that "the best way to come to India is without a return ticket." Dulh feels that life in rural India sets a person up for a stress-free life and that she has seen people transformed by the different perspectives gained when living in an Indian village.
News source: Russia Beyond The Headlines


Print this news
---
Culture news archive for 15 May' 2012.
Culture news archive for May' 2012.
Culture news archive for 2012 year.