Culture news
UNESCO: preserving the past for the future
06.25.2012 16:00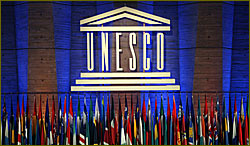 New sites may appear on UNESCO's World Heritage List as the World Heritage Committee begins its 36th session in St. Petersburg, its first to be hosted by a Russian city and first to be broadcast live on the Internet.
Addressing reporters ahead of the forum, Russia's Permanent Representative to UNESCO Eleonora Mitrofanova said that the venue was symbolical.
"Choosing St. Petersburg, which itself is a world heritage site, was certainly the right thing to do. The city was nominated for the session's venue according to several criteria, including the seventh one that says that it's a masterpiece of human genius. All of my colleagues are delighted. It's a great honor to our country to receive the Committee. This is a large-scale event attended by high-ranking participants from nearly 190 countries."
Seeking World Heritage status are 36 sites, among them a cave with ancient rock carvings in France, Walloon mines Belgium, a mountain fortress in India, and sites in Chad, Congo, Palau, Qatar and Palestine. There are two bids from Russia: the first one is a combined nomination of medieval architectural ensembles known as Kremlins, and the second one is the Lenskiye Stolby or Lena Pillars nature park in Siberia.
Nomination debates are the most emotionally charged part of the committee's agenda. It sometimes happens, paradoxical though it may be, that sites that have not been recommended are eventually put on the list, says Eleonora Mitrofanova.
"Quite often, the committee approaches the issue on a broader scale, sidestepping from a purely technical viewpoint to take into consideration a region's economic and tourism potential, and the creation of new jobs for locals. This year, the main topic is the world heritage and the indigenous population. It's very important to get local folks interested in preserving their cultural sites, make them aware of their significance and engage them in every kind of work on those sites."
The World Heritage List comprises 936 sites, 24 of them in Russia. There may be 25 of them soon if the Russian Kremlins nomination wins the committee's approval. The term Kremlin stands for a fortified part of medieval Russian cities. In former times, every Russian city had its own Kremlin, but only a dozen or so have survived till the present day.
With more than three dozen World Heritage sites being at risk of decay or destruction, the need to preserve them is yet another of the committee's priorities. Eleonora Mitrofanova:
"If a site is declared endangered, it is often perceived by countries as a reprimand or a blow to their image. But in reality, it's a very effective aid-raising tool. Aid may come in the form of money or it may be expert assistance that many countries would be grateful to receive."
News source: Voice of Russia


Print this news
---
Culture news archive for 25 June' 2012.
Culture news archive for June' 2012.
Culture news archive for 2012 year.