Culture news
'The Life of an Unknown Man' beautifully bridges two worlds
07.23.2012 15:18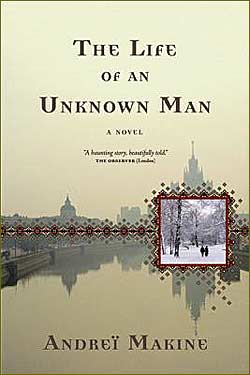 "The Life of an Unknown Man" by Andrei Makine, translated by Geoffrey Strachan
Tourists visiting St. Petersburg, Russia, in 2003 – the year of the city's tricentennial – would have faced an abundance of beauty: the pastel-colored baroque buildings of Rastrelli, plazas and canals, lovely vistas of the Neva River, palaces and churches and museums, narrow streets once walked by Gogol and Dostoevsky, the Summer Garden where young lovers stroll, and the Bronze Horseman statue of city founder Peter the Great, immortalized in verse by Pushkin.
They could be forgiven for not being able to tell – or never knowing – that only 60 years earlier, the city, then called Leningrad, was besieged by the Nazis during World War II. The residents refused to surrender, and during the 900-day siege more than 600,000 people died, most starving to death as the city's food stores dwindled and the frigid winters set in.
The contrast between these two cities – geographically the same, but worlds apart – is at the heart of the lovely, bittersweet novel "The Life of an Unknown Man."
The story begins not in Russia but in Paris, where Ivan Shutov, a Russian emigre and literary writer (as is Makine himself), has just been dumped by his much-younger girlfriend. Readers may roll their eyes initially at the cliche, but Makine beats us to it: "He is the absolute prototype of a man ditched by a woman young enough to be his daughter. The plot for a lightweight novel in the French manner, a hundred pages of Parisian bed-hopping and gloom."
But the novel doesn't go that way at all. Shutov feels sorry for himself for a bit, but – inspired by a Chekhov story ("A Little Joke," the title of which in Russian bears the same root as Shutov's name) – he decides to track down a girl he was once close to in Leningrad three decades before. After a chain of phone calls, Shutov has Yana's cellphone number. With visions of long-ago romance, he calls her to tell her he'll be in St. Petersburg the next day.
But the novel doesn't go that way either. As it happens, his arrival is smack in the middle of the chaos of the city's 300th anniversary festivities. Yana has become a wealthy businesswoman, horribly busy and always racing somewhere with a phone on her ear. They barely have time to talk, and Shutov wanders the crowded city alone. It's not the city he left: there are luxury hotels, Western goods and a culture he can no longer call his own. Earlier Shutov had remarked, "I'm not Russian … I'm Soviet." And there is a difference, a difference he feels pointedly.
Back in Yana's under-construction apartment, which is being created from several smaller apartments, whose tenants have all been bought out or swapped or double-swapped with to clear them out, one last tenant, Volsky, awaits the people who are coming to take him away to a rest home. Shutov has been told that the old man is deaf and mute, but as they sit in front of a TV, Volsky begins talking.
This is the way the novel goes: adrift in what was but no longer is his native land, Shutov listens to Volsky's story of the siege of Leningrad, the war, the aftermath, the gulag, the remainder of a life.
Despite the horrors of the siege, horrors that are vividly described but not dwelled upon by the author, there were stories of bravery, determination and humanity. A young singer when the siege starts, Volsky has his life – like everyone else's – upended. Amid the death, he and his girlfriend Mila join a theater troupe that performs opera by candlelight in a freezing theater. "Applause was no longer heard. Too weak, their hands frozen in mittens, people would bow to thank the actors. This silent gratitude was more touching than any number of ovations."
Volsky and Mila part when he heads off to combat, but reunite after the war to begin to build a life and family together, taking war orphans into their home. This, too, is upended by the madness of Stalinism, but Volsky, instead of emerging from the camp ruined and bitter, rebuilds his life a second time.
Shutov's own worries seem petty in comparison, and hearing the unknown story of this unknown man – "A heroic life, a life sacrificed" – transforms him.
So much is packed into this short novel, but it feels expansive, never cramped or rushed. In spare prose, Makine uses well-chosen details and searing emotions to create an enveloping story. This unknown man is worth knowing; his life is both heartbreaking and inspiring.
News source: Kansas.com


Print this news
---
Culture news archive for 23 July' 2012.
Culture news archive for July' 2012.
Culture news archive for 2012 year.