Printed from: http://petersburgcity.com/news/culture/2013/01/16/Mariinsky_Madrid_160113/
Culture news, 16.01.2013 14:01
Mariinsky wins high acclaim in Madrid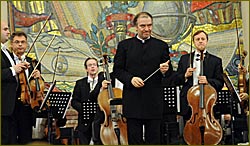 The Mariinsky Theatre Orchestra directed by Valery Gergiev has stunned the Madrid public with a virtuoso performance of Sergei Rachmaninoff's Piano Concerto No.2 and Pyotr Tchaikovsky's Fifth Symphony.
Performing in tandem with outstanding pianist Denis Matsuev, maestro Gergiev took an encore to present an equally brilliant version of Anatoly Lyadov's Enchanted Lake, a poem practically unknown in Spain.
The Mariinsky Orchestra will present 10 different programs during his 11-day tour of Spain.
News source: Voice of Russia