Printed from: http://petersburgcity.com/news/culture/2013/01/16/Onegin_Liepa_160113/
Culture news, 16.01.2013 14:07
Eugene Onegin in St. Petersburg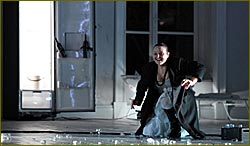 The opera Eugene Onegin staged by Andris Liepa has been performed in St. Petersburg by the singers of the Galina Vishnevskaya Opera Centre in Moscow.
They dedicated the performance to the memory of the great opera singer who had spared no effort in training the young generation of opera singers.
Vishnevskaya herself used to say that her career in the Bolshoi Theatre began with performing the part of Tatiana Larina and she also sang that part in her farewell performance at the Grand Opera in Paris.
News source: Voice of Russia