Printed from: http://petersburgcity.com/news/culture/2013/01/17/Block_Adam_Grani_170113/
Culture news, 17.01.2013 14:47
"Book of the Blockade" re-published in Russia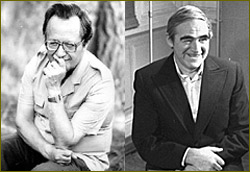 The legendary "Book of the Blockade" that is based on documents and at the same time is a work of art has been re-published in Russia.
It contains an analysis of the tragic events of the Second World War when Leningrad (now St. Petersburg) was under the siege of Nazi troops for nearly 900 days. The new publication is timed to The "Book of the Blockade" has two authors – Ales Adamovich, a Belarusian prose writer (now dead), who fought in the Belarusian partisan detachments, and his prominent Russian colleague Daniil Granin who fought in the tank troops. Between the 70s and 80s of the 20th century Adamovich and Granin questioned more than 200 Leningrad residents who survived the blockade, and their stories are exactly what the book was based on. By the way, what was the fierce siege of Leningrad that led to a mass death of peaceful civilians a St. Petersburg- born Daniil Granin knew by his own experience. In an interview Daniil Granin said:
"I fought at the Leningrad Front that was under the blockade as well. Therefore, although the stories of all those who survived the siege of Leningrad are well known, we can say that each of the survivors had his (her) own tragedy. At first, they cried and sobbed and thus, unwilling to say anything. Then Ales fell ill, and later I fell ill too because the stories which the Leningraders told us were so dreadful that we didn't dare to include them in the book…"
However, what the authors included in their 500-page book was enough to make the first publication of their creation very difficult. The book was banned by the Soviet authorities.
"It was banned in St. Petersburg because it was not in conformity with the ideological dogmas of the then times. It contained information about tortures and sufferings of the blockade survivors who were dying of starvation. Despite all sufferings, death, cannibalism, and the horrors of the 900-day siege, the people displayed indomitable courage and heroism."
Hitler's soldiers expected that a long blockade life would force Leningrad to surrender to the Nazi troops. However, the Leningraders displayed unprecedented staunchness that helped them hold out against the fire of the enemy. Daniil Granin says that powerful spiritual resources that are practically non-existent today were of great help to them in the hard war times.
"A person of today does not have that degree of compassion that was characteristic of the blockade survivors. A glass of boiling water shared with a dying man proved a life-saving means at times. And one more thing here. We arrived at the conclusion that those who helped others survived more often than the ones who lied motionless, losing all hopes or expecting others to take care of them…"
Today the "Book of the Blockade" gives people lessons of compassion that are as important as the lessons of courage.
News source: Voice of Russia