Printed from: http://petersburgcity.com/news/culture/2014/05/29/Hermitage_Berengo_290514/
Culture news, 29.05.2014 18:56
The Official visit to Berengo Studio, Venice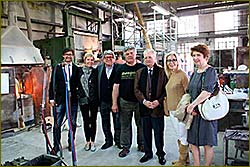 On 20th May, 2014, The delegation of the State Hermitage Museum with Dr. Piotrovsky, Director, visited Berengo Studio, Venice, and discussed the joint future project.
The State Hermitage Museum, St.Petersburg, Russia and Berengo Studio, Venice, Italy are delighted to announce a joint exhibition GLASSTRESS 2015 GOTIKA in frames of The 56th International Art Exhibition in Veniece. The exhibition explores how medieval ideas and communication methods have imperceptibly crept into our modern conscience despite our technological advances and how Gothic concept influences contemporary art.
The exhibition concept is by Dr. Dimitri Ozerkov, Director of Hermitage 20/21 project and of Contemporary Art Department in the State Hermitage Museum. Dr. Ozerkov will curate GLASSTRESS 2015 GOTIKA with Adriano Berengo of Berengo Studio.
News source: State Hermitage Museum