Printed from: http://petersburgcity.com/news/culture/2014/06/05/mariinka_WhiteNights14/
Culture news, 05.06.2014 18:47
The XXII Stars of the White Nights music festival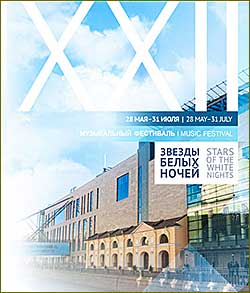 During the 65 days of the festival about 200 events will be held including 113 performances (58 operas, 55 ballets), 80 chamber and symphony concerts with the participation of guest artists, Mariinsky opera and ballet soloists as well as Mariinsky Chorus and Orchestra.
The XXII Stars of the White Nights music festival will open with the premiere of Les Troyens, an opera by Hector Berlioz directed by Yannis Kokkos who is making his second joint project with Mariinsky Theatre. The epic dilogy conducted by maestro Valery Gergiev will be presented in Mariinsky-2 on May 28, 29 and 30 The festival ballet programme will be opened by the season premiere of the ballet by Frederick Ashton Sylvia (Mariinsky Theatre, May, 28).
The first concert of the symphony concert programme will take place in the Concert Hall on May 31. Mariinsky soloists with the Mariinsky Chorus and Orchestra conducted by maestro Valery Gergiev will perform the Glagolitic Mass by Leo Janek as well as the Cello Concerto by Robert Schumann (with Mario Brunello as a soloist). The concert is dedicated to the memory of Richard Colburn, the theatre's friend and art patron.
Another opera premiere of the festival is the grandiose War and Piece by Sergey Prokofiev staged by the British director Graham Vick with Paul Brown as a production designer. The first performance conducted by Valery Gergiev will be held in Mariinsky-2 on July 15 and 16.
Ballet premieres of the festival will include the four one-act ballets created by the outstanding contemporary Dutch choreographer Hans van Manen. On June 15 and 17 four short pieces - Adagio Hammerklavier, Variations for two couples, Solo, 5 Tangos - will be presented on the new stage of the Mariinsky Theatre. Marguerite and Armand, a Frederick Ashton ballet with Liszt music will be premiered on July 8 and 9.
The Richard Wagner theatre. Mariinsky Theatre is the only theatre in Russia where the grand creation by Richard Wagner, the tetralogy Der Ring des Nibelungen is performed in full. In 1990s, following a nearly one-hundred years' gap, Valery Gergiev initiated the Warner Renaissance in the theatre. On June 4, 5, 7 and 8 Mariinsky-2 will present the Der Ring des Nibelungen conducted by Valery Gergiev. On June 16 Mariinsky-2 will feature Lohengrin, an opera which was returned to the theatre repertoire recently. And then, at the closing event of the festival on July 31, the outstanding soloists, Evgeny Nikitin, Mlada Khudoley, Mikhail Petrenko and Segey Skorokhodov will perform the leading roles in the Flying Dutchman.
Rodion Shchedrin Theatre. Works by Rodion Shchedrin are in the focus of the theatre's repertoire: three operas (Dead Souls, Enchanted Wanderer, the Lefthander) and three ballets (Anna Karenina, Carmen Suite, the Little Humpbacked Horse) have been staged here, and the composer's symphony music is frequently performed. In the festival programme Rodion Shchedrin's works are represented with three ballets: the Little Humpbacked Horse (June 1, 25, 26), Anna Karenina (June 21, 23, 24), and the Lefthander based on the story by Nikolay Leskov (June 27).
The St.-Petersburg premiere of Rodion Shchedrin's Boyarina Morozova conducted by Valery Gergiev will be held in Mariinsky-2 on June 22 (concert performance). This is a Russian choral opera in two parts for four soloists, mixed chorus, trumpet, kettledrums and percussion. The opera, which has been described as one of the most outstanding works of the decade, is based on the texts of The Life of the Archpriest Avvakum and The Life of Boyarina Morozova and deals with an extremely dramatic event of the Russian history, the religious schism of the 17th century.
Three ballet companies will take part in the festival. Scottish Ballet (Glasgow) will present Highland Fling, a reworking of the classic romantic ballet La Sylphide choreographed by the famous Matthew Bourne (June 18 and 19). Alexander Spendiaryan State Academic Opera and Ballet Theater of Armenia will perform Gayaneh in the historic venue of the Mariinsky Theatre (July 22 and 23). Astana Ballet will present Oriental Phapsody (July 26 and 27).
Special events. The baroque ensemble "Les Arts Florissants" is one of the most famous groups of its kind. Founded in 1979 by the Franco-American harpsichordist and conductor William Christie, the ensemble takes its name from an opera by Marc-Antoine Charpentier. The group consists of a choir, an orchestra and soloists. In St.-Petersburg the musicians will present a programme titled "Arias and dances by Jean-Philippe Rameau" on the occasion of the 250th anniversary of the composer's death. The programme will be conducted by Jonathan Cohen (June 27). Teatro Regio di Torino will perform Requiem by Giuseppe Verdi with Maria Agresta, Daniela Barcellona, Fabio Sartori, Michele Pertusi, Chorus and Orchestra of Teatro Regio conducted by Gianandrea Noseda (Mariinsky-2, July 9).
Traditionally, a number of monographic programmes are to be presented at the festival. Atrium string quartet will present all quartets by Jakob Felix Mendelssohn (July 1 and 2). Two closing concerts of the programme including all of Johann Sebastian Bach's music for organ will be given by Christopher Herrick (May 28 and 29). A lot of attention in the festival programme is paid to works by Johannes Brahms. The audience will have a chance to hear Symphonies No 4 and No4, Piano Concerto No 2, Op. 83, performed by Rudolf Buchbinder (June 23), Violin and Cello Concerto, Op. 102 with Sergey Khachatryan and Narek Hakhnazaryan (June 17), and Violin Concerto, Op. 77 performed by Leonidas Kavakos (June 26) with Mariinsky orchestra conducted by Valery Gergiev.
Song cycles by Franz Schubert and Robert Schumann will be performed by outstanding musicians: Ferruccio Furlanetto and Igor Tchetuev (Winterreise, June 30), Alice Coote and Christian Blackshaw (Dichterliebe, July 3).
The festival will feature the world opera stars, both Mariinsky soloists and guest artists: Olga Borodina as Dalila (Samson et Dalila, June 1) and as Marfa (Khovanshchina, June 9); Evgeny Nikitin as High Priest of Dagon (Samson et Dalila, June 1), as Wotan (Siegfried, June 7), as Gnter (June 9) and as the Dutchman (The Flying Dutchman, July 31); Alexey Markov as Iago (Otello, June 2), and as Prince Eletsky (The Queen of Spades, June 12); Mikhail Petrenko as Abimlech (Samson et Dalila, June 1), as Mephistopheles (Faust, June 4), as Hunding (Die Walkre, June 5), as Hagen (Gtterdmmerung, June 8), as Philip II (Don Carlo, June 21), as Khan Konchak (Prince Igor, June 29), and as Daland (The Flying Dutchman, July 31); Alexander Antonenko as Otello (Otello, June 2); Ferruccio Furlanetto in his signature role of Don Quichotte in the opera by Jules Massenet (June 24 and 25), as Prince Gremin (Eugene Onegin, July 4) and in a solo recital (June 30); Ekaterina Gubanova as Princess Eboli (Don Carlo, June 21); Ildar Abdrazakov as Philip II (Don Carlo, June 15) and as Banco (Macbeth, July 29) Liudmyla Monastyrskaya as Lady Macbeth (the concert performance of Macbeth, July 29); Oksana Dyka as Floria Tosca, Marcelo Alvarez as Mario Cavaradossi, Gabriele Viviani as Baron Scarpia (Tosca conducted by Carlo Montanaro, July 3 and 6); Oksana Dyka as Yaroslavna (Prince Igor, June 29); Tatiana Serjan as Leonora (Il trovatore June 19) and as Lady Macbeth (Macbeth conducted by James Conlon, June 26 and 28); Maria Agresta, Daniela Barcellona, Fabio Sartori and Michele Pertusi (Requem by Giuseppe Verdi, July 9); Maria Guleghina as Aida (Aida by Giuseppe Verdi, July 24), and as Princess Turandot (Turandot by Giacomo Puccini, July 27); Ekaterina Semenchuk as Didon (Les Troyens, May 28), as Carmen (Carmen, July 1) and as Azucena (Il trovatore, July 7); Anita Rachvelishvili in a solo recital (July 5); Sergei Semishkur as Vaudmont (Iolanta, July 20), as Vladimir Igorevich (Prince Igor, June 29), as B. F. Pinkerton (Madama Butterfly, July 30); Sergei Skorokhodov as Macduff (Macbeth, June 26 and July 28, 29), and as Erik (The Flying Dutchman, July 31).
The festival's ballet programme will feature, apart from the festival premieres, the latest performances of Sylvia choreographed by Frederick Ashton, Infra by Wayne McGregor; George Balanchine's ballets as well as the best classical ballets including Swan Lake, The Fountain of Bakhchisarai, La Bayadere, Don Quixote, Romeo and Juliet, La Sylphide, Giselle. The audience will have a chance to appreciate the leading dancers of the company: Olga Esina, Ekaterina Kondaurova, Ulyana Lopatkina, Daria Pavlenko, Alina Somova, Timur Askerov, Andrey Ermakov, Danila Korsuntsev, Alexander Sergeev, Vladimir Shklyarov and Kimin Kim. Igor Zelensky gala with the participation of Polina Semionova and Diana Vishneva will be held on July 15.
Instrumental soloists. Traditionally, the Stars of the White Nights festival will feature solo recitals of the pianists Peter Serkin (June 12), Alexey Volodin (June 18), Vadim Kholodenko (June 21), Igor Tchetuev (June 28), Christian Blackshaw (July 6), Daniil Trifonov (July 8), Polina Osetinskaya and Anton Batagov playing as a piano duo (June 5). Another piano duo – Boris Berezovsky and Alexander Gindin – will be presented on July 4. Rudolf Buchbinder with Mariinsky soloists will perform Piano Quintets of Antonn Dvok and Robert Schumann. Denis Matsuev, the regular guest of the festival, will play with the Mariinsky Orchestra on June 22.
Cellist Mario Brunello will perform his original programme (June 4), and the cello of David Geringas will be complemented by the musicians of the Mariinsky Orchestra cello section (June 14). Violinists Janine Jansen (June 11), Leonidas Kavakos, this time playing in duo with the pianist Nikolay Lugansky (June 25), and Sergey Krylov (July 9) will also present their solo programmes.
String quartets in the festival programme. Atrium String Quartet, one of the leading young ensembles on the music scene, will perform on July 1 and 2 with a programme of quartets by Jakob Felix Mendelssohn. These charismatic musicians with their deep emotion, virtuosity and technical brilliance, are highly acclaimed by audiences and the press throughout the world. The State Borodin Quartet, old friends of the Mariinsky Theatre, will play pieces by Pyotr Tchaikovsky, Alexander Borodin and Franz Schubert.
Mariinsky chamber ensembles. Renaissance Percussion and the Mariinsky Stradivarius Ensemble with Lorenz Nasturica-Herschcowici will perform at the festival.
Youth orchestras will also participate in the festival – Bard Conservatory Orchestra with Leon Botstein and Peter Serkin (June 9), All-Russian Youth Simpfony Orchestra conducted by Yuri Bashmet (June 16), and Russo-German Music Academy (July 10 and 11). The Mariinsky Youth Orchestra is also in the festival programme.
Internationally known conductors will lead the Mariinsky Orchestra. Paavo Jrvi will conduct the programme of Gustav Mahler's music (Symphony No.7 and Lieder eines fahrenden Gesellen, July 11) and James Conlon will conduct Macbeth by Giuseppe Verdi on June 26 and 28 and music by Mozart and Zemlinsky on June 29.
For the first time this year the festival programme will include a drama performance. On June 10 and 11 the Moscow Chekhov Art Theatre will present The humpbacked little horse directed by Evgeny Pisarev in Mariinsky-2.
Concerts in chamber halls of Mariinsky-2. The programme of the 22nd Stars of the White Nights festival will, for the first time, include concerts and lectures that will be held in Mariinsky-2 chamber halls: Stravinsky Foyer, the Musorgsky Hall, the Shchedrin Hall and the Prokofiev Hall. Mariinsky Orchestra soloists and students of the Mariinsky Academy of Young Singers will perform their interesting programmes solo or in duos, trios and chamber ensembles.
News source: The State Academic Mariinsky Theatre