Printed from: http://petersburgcity.com/news/culture/2015/06/25/Swing_Beliye_Nochi_250615/
Culture news, 25.06.2015 11:02
XXII Petersburg festival of the jazz «Swing Beliye Nochi 2015»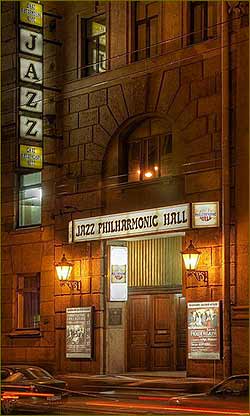 From June 26 to June 28 the annual XXII Petersburg festival of the jazz "Swing Beliye Nochi 2015" which is held by the State Philharmonic hall of jazz music together with Committee on culture of the Government of St. Petersburg since 1994 will take place. The Swing of the White Night festival representing St. Petersburg as one of the centres of jazz art, largest in Europe, convincingly shows the high level of domestic and foreign jazz performance.
"Swing Beliye Nochi 2015" constantly draws to itself attention of the Russian and foreign press, radio and television and has a high rating of popularity among the international festivals of similar level. In its advance plays the international authority of the musical director of a festival large roll – the people's artist of Russia, the artistic director of philharmonic hall David Goloschekin. Manifestation of artistic talent of this unique musician is diverse: annually he creates new concert programs, spends solo thematic evenings, joint concerts with outstanding Russian and foreign performers. David Goloschekin supported the long-term creative life with such stars of the world jazz as Duke Ellington, Dizzy Gillespie, Billey Taylor, Uinton Marsalis, Eddie Gomez, Benny Golson, participated in the international jazz festivals in Germany, Norway, Sweden, the USA, Israel and Russia.
Musicians from Europe and America will make a speech at the "Swing Beliye Nochi 2015" festival: vocalists Gale Pettis and Jamie Davies, the jazz pianist Larry Porter, the guitarist Ilya Lushtak from the USA, the saxophonist Radavan Tarishka from Bratislava, the contrabass player Tomasz Baros (Prague), the saxophonist Robert Anchipolovsky (Israel), Four ensembles (St. Petersburg – Moscow), Yulia Kasyan and David Goloschekin's (St. Petersburg) ensemble. Concerts of a festival will take place 26, 27, June in Philharmonic hall of jazz music and at Arts Square, where on June 28 at o'clock in the afternoon Gala concert open-air will take place. An entrance to this event of a festival the free. The glorified Petersburg collectives will appear on an open-air stage of Arts Square besides guests of a festival: Gennady Golstein and an orchestra "Saxophones of St. Petersburg", the Leningrad Dixie land conducted by Oleg Kuvaytsev, Jazz Philharmonic Orchestra of Kirill Bubyakin and "Calypso the blues a band".

June 26 – Philharmonic hall of jazz music. Opening of a festival. Beginning at 19.00
June 27 – Philharmonic hall of jazz music. Beginning at 19.00
June 28 – Arts Square. Closing of a festival. Gala concert. Free admission. Beginning at 13.00

By convention participants of a festival will be presented by his constant leader - the honoured worker of arts of Russia Vladimir Feyertag.
News source: St. Petersburg Philharmonic hall of jazz music