Printed from: http://petersburgcity.com/news/culture/2015/08/07/Block_memeory15_070815/
Culture news, 07.08.2015 12:09
7 August - Day of memory of Alexander Blok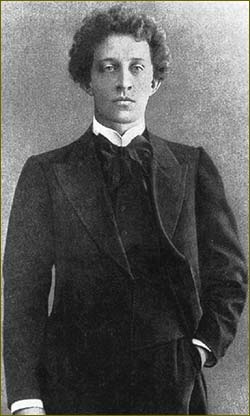 On August 7 A. A. Blok's Museum apartment (Dekabristov St., 57) - a branch of the State Museum of the History of St. Petersburg - will celebrate the Day of memory of Alexander Blok (1880-1921).

In the program:
10.30 – Bus, walking tour "City my imperceptible…"
Travel on streets, embankments, bridges of blokovsky St. Petersburg, the city with which all life of the poet was connected. The landscape of its poetry is inseparable from the Petersburg fogs, the white nights, the wide Neva Current and a fresh sea wind.
10.30 - Excursion in A. A. Blok's Museum apartment (Dekabristov St., 57), visit of the Smolensk cemetery, place of the first burial of the poet, memorial service in Church of the Resurrection where on August 10, 1921 there was a burial service. Visit of a grave of A. Blok on the Literatorsky planked footway of Volkov of a cemetery.
16.00 – Return to the museum and recitation in an office of the poet.
17:00 – Display of the movie of K. Olonovsky "Whisper. Silver age".
18:00 – "The girl sang a literary musicale in church choir …"
In the program: A. Blok's poems and romances of the composer Mikhail Malevich on A. Blok, A. Pushkin, M. Lermontov, S. Yesenin's verses, N. Pavlovich, O. Malevich, N. Orekhova and T. Egorova. Act: a soprano – Maria Petrova, a baritone – Alexey Ivanov, a piano – Mikhail Malevich, a flute – Alexey Uzhegov, recitation – the actress Irina Ivanova.
The excursion is conducted by A. Goregina, the senior research associate of the Museum apartment of A. A. Blok. Attention! The quantity of places on a bus excursion is limited! Preliminary record on ph. 713-86-31.
News source: Administration of St. Petersburg