Printed from: http://petersburgcity.com/news/culture/2016/03/11/mikhailovsky_Lebedinoye/
Culture news, 11.03.2016 07:34
Ballet «Lebedinoye Ozero»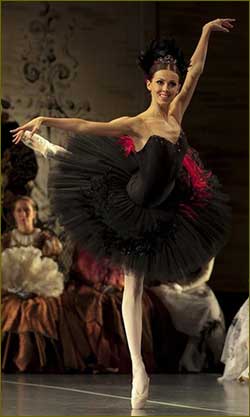 Lebedinoye Ozero is a ballet that has become has become a symbol of Russian art itself. The version of the famous ballet cannot be seen anywhere else in Moscow or St. Petersburg: the Mikhailovsky Theatre's Lebedinoye Ozero is the legendary 'Old Moscow' production by Alexander Gorsky and Asaf Messerer. For many years it was considered in Moscow to be the standard production, and now it has been lovingly restored by Mikhail Messerer, Ballet Master in Chief of the Theatre.
'Lebedinoye Ozero is a special title in the ballet repertory. We were discussing which version to choose for our theatre and turned our attention to the production by Alexander Gorsky and Asaf Messerer. According to ballet historians, the historical London Tour of the Bolshoi Theatre in 1956 could be compared to Diaghilev's Russian Seasons in the mission of establishing the priority of Russian ballet around the world. It was during the 1956 tour that the version of Lebedinoye Ozero received rave critical reviews. The appearance of Mikhail Messerer at the Mikhailovsky Theatre made it possible to revive the wonderful production here', General Director of the Mikhailovsky Theatre Vladimir Kekhman comments.
'Our major concern was to avoid repeating the brilliant production by Konstantin Sergeyev, which occupies such an important place in the repertory of our great elder sibling — the Mariinsky Ballet. A hundred years ago, a remarkable choreographer from St. Petersburg (who was then just starting his career as a ballet master) named Alexander Gorsky was transferring the production of Lebedinoye Ozero by Lev Ivanov and Marius Petipa to the Bolshoi Theatre in Moscow. And while basing it on the gracious choreography of the original, transformed the ballet and staged it in his own way. The epoch of Alexander Gorsky saw the next phase in the evolution of dance following the balletic classicism of Petipa and Ivanov. Gorsky was influenced by contemporary art; he was attracted by the innovative methods of the stage direction of Konstantin Stanislavsky and Vladimir Nemirovich-Danchenko and the new style of acting it involved. By the way, Nemirovich-Danchenko participated in a production of Swan Lake by Gorsky.
'My approach to the production was quite careful, as I adore the version of 1956, but I admit that my contribution, perhaps, modernizes Lebedinoye Ozero, brings the ballet up-to-date. My alterations in the ballet are minor. They are mostly based on my conversations with Asaf Messerer in 1990. At the time we were talking about possible changes to the production provided he had a chance to stage the ballet Lebedinoye Ozero once again. In 1956, the sets for the production were designed by the fabulous artist Simon Virsaladze. The same design is being used now: both for the sets and for the costumes. To my mind, the production corresponds to modern society: everybody wants a happy end today, and our Lebedinoye Ozero will provide it', Mikhail Messerer says.
News source: www.visit-petersburg.ru