Printed from: http://petersburgcity.com/playbill/favorites/boris_godunov
Boris Godunov
M.Mussorgsky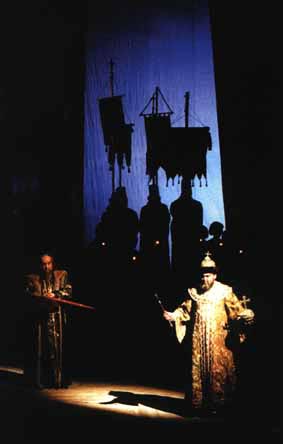 Opera in 2 acts
Librettoby M.Mussorgsky
After story by A. PUSHKIN
Production – State Prize Laureate, People Artist of Russia S. GAUDASSINSKY
Conductor -,A.ANIKHANOV, Honoured Artist of Russia M.Kukushkin.
Set Designer-S.PASTUKH
Chorus master-Honoured artist of Russia A.CHERNOV
Choreographer- V.Firsov.
Costume Designer- E.Rapay.
Director-Honoured artist of Russia A.Bashlovkin

CAST
Boris Godunov
Fyodor, his son
Xenia, his daughter
The Nurse
Prince Vasily Shouisky
Andrey Tchelkanov, clerk of the Duma
Pimen, monk and historian
Impostor called Grigory
Marina Mnishek
Rangoni, a Jesuit
Varlaam
Misail
Hostess of the inn
The Simpleton
Nikitich, police officer
Boyar in Attendance
Boyar Khruschev
Polands
Mitiukha
CONTENTS
Act I
Scene 1
LGendarmes order the townspeople to pray that Boris Godunov accepts the tsar's crown. Tchelkanov, the secretary of the Duma, informs them that Boris has refused.
Scene 2
Boris is coronated. Clergy, boyars and townspeople glorify the new tsar.
Scene 3
The old monk Pimen, who considers Boris to be to blame for the assassination of Dmitri, finishes his chronicle of Russian history. Monk Grigory listens to Pimen's story and conceives an impudent idea to pretend to give himself out as tsarevich Dmitri, as if he saved from me death.
Scene 4
Grigory has escaped from the monastery and arrives at an inn with Varlaam and Misail, two fellow vagabond monks. Grigory asks the innkeeper about the way to the Lithuanian border. Guards suddenly appear and try to arrest Grigory but he escapes.
Scene 5
The nursemaid comforts the tsar's daughter Xenia, who is mourning her fiance's death. Boris tries to comfort Xenia too. He studies the map of the Russian kingdom with his son Fyodor, the future tsar. Shouisky arrives to tell Boris about the arrival of impostor Dmitri in Lithuania. Boris demands that Shouisky confirm Dmitri's death, but Shouisky's story only serves to make Boris unrestful and nervous, he sees the phantom of me dead tsarevich.
Act II
Scene 6
Jesuit named Rangoni inspires Marina Mnishek, daughet of the Voyevode of Sandomir, with idea to ascend the throne of Russia via the impostor Dmitri.
During the meeting with Grigory, who is in love with Marina, she insists on a campaign against Moscow.
Scene 7
The crowd discusses the news about the appearance of the imposter Dmitri. They hope that the impostor will save them from the boyar's oppression.
The townspeople demand bread from the Tsar, but submitting under the pressure of the police. The Simpleton turns to Boris as he leaves the Cathedral and accuses him of murdering Dmitri.
Scene 8
A rebellious mob baits and mocks a boyar who had been a supporter of Boris.
Varlaam and Misail instigate people with stories about tortures and punishments.
The rioters adjoin to imposter Dmitri, demanding the death of Boris. Only the Simpleton remains, brooding over the fate of Russia.
Scene 9
A special session of the Douma is taking place to discuss me news about the impostor's appearance.
Shouisky brings the news about Boris' hard disease and who hallucinates the death of tsarevich Dmitri.
The Tsar's appearance confirms Shouisky's description. The old monk Pimeri then arrives and explains about miraculous powers of Dmitri's tomb.
Pimen's story makes Boris to break down completely. He understands that he is dying and calls for his son for final religious rites. Boris dies.