Printed from: http://petersburgcity.com/playbill/favorites/esmeralda
Esmeralda
Ts. Puni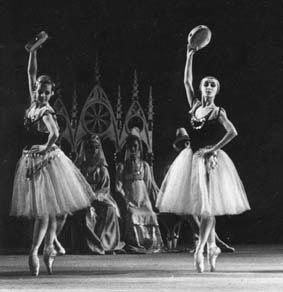 Romantic ballet in 3 acts
Version by J. Perro
After "Notre-Dame de Paris" by V. Hugo
Production - according to version by J. Perro - M. Petipa
Artistic Director of the Production — State Prize Laureate, People Artist of Russia N. BOJARTCHIKOV
Advisers: State Prize Laureate, Honoured Artist of Russia T. Vecheslova,
People Artist of Russia P. GUSEV
Stage Design — State Prize Laureate, Honoured Artist of Russia T. BRUNI
Repetitors: Honoured Artist of Russia L. Klimova,
Honoured Artist of Karelia E. Pavlova,
Honoured Artist of Russia A. Sidorov,
N. Tagunov, Y. Vasilkov, State Prize Laureate,
Honoured Artist of Russia S. Sheina

Act I
The Court of Miracles Poet Pierre Gringoire finds himself in the den of thieves, tramps and beggars, called the Court of Miracles. Their leader Claupin Troulfout thinks that nothing can come of the poet, and orders to hang him. There is a law at the court, however, according to which a woman can save the man condemned to death, if she agrees to become his wife. And it is only Esmeralda — a dearly-beloved gypsy-woman — who feels sorry for Gringoire and agrees to save his life. Occupants of Court wildly celebrate their wedding... Hunchback Quasimodo, by the order of his master — priest Claude Frollo who is in love with Esmeralda — tries to abduct her for him. But soldiers with Phoebus de Chateaupers at the head arrive and ruin their plan. Frollo escapes but Quasimodo is captured by soldiers. Fascinated by Esmeralda's beauty, Phoebus gives the girl his scarf yielding to her request sets hunchback free. He demands a kiss as a reward, but the girl slips off his embrace...
First Night

Esmeralda is alone in her box-room. She is in love with Phoebus and looks lovingly at his scarf, uttering his name again and again.
Gringoire comes and makes an attempt to embrace his young wife. But Esmeralda takes out a dagger and thus brings the miserable poet to his senses: he can only be her companion good enough to dance with her in the streets. Frustrated Gringoire has to leave. Frollo gets into Esmeralda's room, leaving Quasimodo behind the door. He pleads the girl to give a response to his passion. Esmeralda explains that she loves a young officer and orders the priest to leave her. Furious Frollo nurtures plans of revenge.
Act II
Fleur-de Lys In the castle garden of Madame de Gondelaurier preparations for the wedding ceremony of Fleur-de-Lys and Phoebus de Chateaupers are underway. Phoebus appears and absent-mindedly kisses Fleur's hand. To her surprise, Fleur doesn't see the scarf on him which she has given to her fiance as a gift.
Festivities begin. Guests are entertained by gypsies, invited specially on the occasion. Among them are Esmeralda and Gringoire. The young gypsy dancer takes Phoebus's betrothal very hard. Gringoire makes an attempt to comfort her but fails.
Fleur notices that Esmeralda is wearing the scarf — her gift to Phoebus. Shocked by her fiance's betrayal, she tears her gift out of the dancer's hands casting reproaches upon him. Gringoire takes Esmeralda away, protecting her from the guests' anger. Phoebus runs after them.
Act III
Love and jealousy
Frollo hides himself in the tavern waiting for Esmeralda to come. Phoebus and the gypsy woman appear. Trembling with joy Esmeralda listens to the young officer's passionate declaration of love.
Unable to bear this scene any longer, Frollo with a dagger in his hand throws himself upon Phoebus... The guards arrive and take away Esmeralda who is charged by Claude Frollo with the murder of the officer.
The festival of jesters.
On the square in front of the Notre-Dame de Paris towns people celebrate the 'festival of jesters'. It has become a tradition to choose the ugliest man for the role of the 'pope of jesters'. This time their choice falls upon hunchback Quasimodo — the bell-ringer of the Notre-Dame, Gringoire looks for Esmeralda in the jovial crowd.
Frollo appears at the height of the festival. He angrily accuses Quasimodo of blasphemy.
A dreary procession stops the festival: Esmeralda is led to the place of execution.
The gypsy woman bids farewell to her friends and, pressing the scarf of her beloved to the heart, leaves them all forever.