Eugeny Onegin
P. Tchaikovsky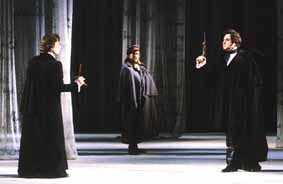 Lirycal scenes in 3 acts
Libretto by M. TCHAIKOVSKY and K.Shilovsky
After story by A. PUSHKIN
Production – State Prize Laureate, People Artist of Russia S. GAUDASSINSKY
Conductor -,A.ANIKHANOV
Honoured artist of Russia M.KUKUSHKIN
Set Designer-S.PASTUKH
Chorus master-Honoured artist of Russia A.CHERNOV
Choreographer-International competition laureate, People Artist of Russia N.DOLGUSHIN
Costume Designer-G.Soloviova
Director-Honoured artist of Russia A.Bashlovkin
Ballet Teacher-Honoured artist of Russia E.Miasischev

Act I
Scene 1
Landlord Larin's estate.
Unexpected visitors arrive: a poet Vladimir Lensky, Olga's fiance, and Eugeny Onegin, who has recently come from St-Petersburg.
Onegin has impressed Tatiana very much. She sees her ideal in him.
Scene 2
Tatiana's room.
Night. Tatiana in the agony of her love writes a confessing letter to Onegin.
Scene 3
The Larin's garden.
Tatiana is waiting for an answer to her letter with an excitement.
Onegin appears. He is indifferent to the feelings of Tatiana and reads her a moralizing lecture, he reprimands the girl.
Act II
Scene 4
The ball in the Larin's house in honour of Tatiana's name-day. Lensky brings Onegin to this ball. Onegin is irritated with everything here. To take vengeance on his friend, Eugeny starts to court Olga. Humiliated Lensky challenges Onegin to a duel.
Scene 5
A place of the duel.
Early morning. Lensky and Zaretsky are waiting for Onegin. Onegin appears.
There is still a possibility to end everything in peace… But the laws of honour are ruthless.
The seconds handing in pistols. Onegin is the first to shoot. Lensky falls killed with the bullet of Onegin.
Act III
Scene 6
St-Petersburg. A ball.
Onegin just returned from traveling abroad. Among the guests he meets Princess Gremina. In this Princess he recognized Tatiana.
Astounded by the sudden meeting with her Onegin discovers that he is in love with Tatiana. This feeling is becoming stronger and stronger in his heart.
Scene 7
Prince Gremin's house.
Onegin, who everywhere is now looking for a chance of seeing Tatiana in order to declare his love, appears in the house of the -Prince paying no attention to the rules of decency of the high society. But Tatiana asks him to leave her for ever.

Print this document
---
Back to Playbills section