Iolanta
P. Tchaikovsky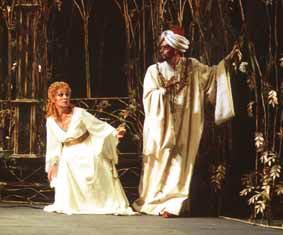 Opera in 2 acts
Libretto after drama G.GERTZ
ProductionHonoured artist of Russia A.BASHLOVKIN
Musical Director and Conductor -A.ANIKHANOV
Set Designer-S.PASTUKH
Chorus master-Honoured artist of Russia A.CHERNOV
ConductorRussian competition laureate M.KUKUSHKIN, E.PERUNOV, A.SITNIKOV
Costume Designer G.Soloviova

Act I
In the south of France, in Provance, there lives Iolanta - king's Rene's only daughter. She is blind from birth. By King's order no one can reveal to Iolanta on pain of death the existence of light.
Iolanta's friends, her nurse - everybody is kind to her, thougtful of her. But sad thoughts haunt her, unbearable anguish oppresses her heart-King Rene cherishes hopes for his daughter's recovery. A famous Moorish doctor Ibn Khakia is invited to the castle. To King's Rene's questions about his daughter's chances for recovery of sight the doctor answers that she can be cured on condition that she learns about her lesion and longs to see. Rene is worried...
Act II
Having lost their way two friends - Knight Veaudemont and Duke Robert find themselves in King Rene's castle. Veaudemont notices the sleeping Iolanta. He is struck by her beauty.
Love for the unknown girl bursts in his heart. Meanwhile Robert tells his friend about his love for Mathilda, the countess of Lorraine. But one thing worries Robert: as a boy he was engaged to King Rene's daughter-Iolanta. On hearing unfamiliar voices Iolanta wakes up: guests are rare in the castle. The young people explain to her that they have lost their way and got into the castle by chance. Robert leaves to find his retainers, Iolanta and Veaudemont remain alone. The young man passionately declares his love for Iolanta. When he realizes that she is blind, he in a fit of passion tells her about the sunshine and bright blue sky.
A desire to see arises in Iolanta's heart and love for the Knight bursts in her soul.
There appeares the alarmed King Rene, the doctor, Iolanta's friends Having learnt that the Knight revealed the secret to Iolanta the doctor decides to begin the treatment.
King Rene declares that if the treatment fails the knight will die. Iolanta is ready to go through any sufferings for Veaudemont to stay alive.
There appears Robert accompanied by his knights. Veaudemont seeks Iolanta's hand in marriage. King Rene tells him that his daughter is engaged to Duke Robert.
Robert begs the king to break the engagement as he loves the countess Mathilda. King Rene releases Robert from his obligations. Joyful cries announce "Iolanta can now see!" King Rene blesses Iolanta and Veaudemont. Happy, they sing a song of praise to the light forces of life, the sun and love.

Print this document
---
Back to Playbills section