THE BARBER OF SEVILLE
G. Rossini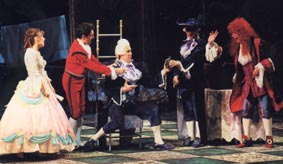 Comical opera in two acts
Librettoby C. Sterbini
After comedy P. Bomarshe
Production — Honoured artist of Russia A. BASHLOVKIN
Set Design — E. DMITRAKOVA
Chief Chorus Master — Honoured artist of Russia A. TCHERNOV
Stage Director — N. SOKOLSKAYA M. KUNITSYNA TANKEVITCH

CAST:
Almaviva
Bartolo
Rosina
Figaro
Basilio
Fiorello
Berta
Officier
CONDUCTOR — E.PERYNOV.

Act I
Scene 1
A street in Seville. Count Almaviva is singing a serenade at the house of Doctor Bartolo. Barber Figaro — a local musician and merry fellow — appears. Almaviva learns from Figaro that Rosina isn't Doctor's Bartolo's real daughter. She is his foster daughter and he is going to marry her.
Almaviva asks Figaro to help him to get into the house. Figaro ad vises Almaviva to disguise himself as a soldier who came to the elector to quarter.
Scene 2
Doctor Bartolo's drawing room. Rosina is in love with a young man Lindor — as Almaviva introduced himself—and she is writing a love letter. Don Basilio — Rosina's teacher of music — comes. Doctor Bartolo asks his advice: how to win Rosina's favour. Don Basilio warns Bartolo: Count Almaviva is in town and in love with Rosina. He advise Bartolo to resort to slander. In his opinion slander is the only weapon in a fight with the rival. Bartolo willingly accepts his plan and takes him away to discuss how to put the plan into action. Figaro appears. Rosina asks him to give her letter to Lindor -Almaviva. Suddenly a drunken soldier enters the house and demands a room for quartering. On hearing the noise the guards rush into the house.
At Bartolo's and Basilio's request the commander of the guards wants to arrest the drunken soldier, but on checking his papers he bows respectfully. Everybody is amazed. Nobody understands what is happening.
Scene 3
Almaviva comes into Bartolo's house again. This time he disguises himself as a music teacher sent to substitute Basilio who is allegedly ill. At the lesson of music Lindor - Almaviva declares his love to Rosina. Basilio appears. Almaviva slips a purse into Basilio's hand to make him go away. The lesson goes on. Bartolo, who notices the young people declare their love to each other, understands that he was made a fool. Bartolo turns everybody out of the house.
Scene 4
A heavy storm overtakes Bartolo. At this time Almaviva and Figaro get into his house. Count Almaviva wants to take Rosina away. However, Bartolo persuades the girl that Lindor is a deceiver, Rosina breaks her word to be his wife. Then Almaviva reveals his real name.
Basilio, commissioned by Bartolo, brings a notary to contract a marriage between the doctor and Rosina. Taking advantage of Bartolo's absence, Almaviva bribes Basilio and makes him sign the marriage contract made by the notary.
Bartolo rushes in, but he has no choice but to consent to their marriage.

Print this document
---
Back to Playbills section