Theatres/Concert Halls/
Academic Capella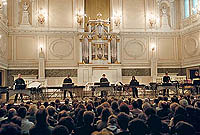 A concert hall specializing in classical vocal and chamber instrumental music.
In 1479 the Singing Dyaks Choir has been established in Moscow. In 1703 it was moved to the nascent city of St. Petersburg, and in 60 years' time it became the Court Kapelle. It has been headed by prominent Russian musicians, such as D.S. Bortnyansky, M.A. Balakirev and M.I. Glinka. The composers N.A. Rimsky-Korsakov and A.K. Lyadov have taught here.
The hall possesses excellent acoustic properties, which attracts many connoisseurs. The Kapelle building has been reconstructed in 1887-1889 by the architect L.N. Benois in the Neoclassical style.
| | |
| --- | --- |
| Address: | 20, Moika River Embankment |
| Subway (Metro): | Nevsky Prospect (Browse map) |

Print version
---
Back to Concert Halls Theatres list
Back to All Theatres list