Theatres/Concert Halls/
Shostakovich Philharmonic, Major Hall
[Show the whole playbill]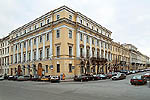 One of the largest musical centers in the world, the St. Petersburg Philharmonic was established in 1921. In 1940 the Philharmonic was awarded the Red Banner of Labour order. In 1975 it has been named after D.D. Shostakovich. The Philharmonic comprises two orchestras, the S.I. Taneyev Quartet and a library. I.I. Sollertinsky, the Philharmonic's artistic director in 1940-44 has played a major role in its activities during that period. The Major Philharmonic Hall is housed in the former Assembly Hall for the Nobility (architect P. Jacquot, design by K. Rossi, 1834-1839), which is a part of the Mikhailovskaya Square (now called Square of the Arts). The building has been reconstructed at the turn of the 20th century, a new storey has been added. The auditorium admits 1,318 people and possesses very good acoustic properties. A pleiad of illustrious conductors and musicians have performed here, including Mravinsky, Oistrakh, Svetlanov, Temirkanov, Richter and Rostropovich. On August 9th, 1942 the Philharmonic's Symphonic Orchestra led by K. Elliazberg has performed Shostakovich's 7th "Leningrad" Symphony.

Print version
---
Back to Concert Halls Theatres list
Back to All Theatres list