Theatres/Concert Halls/
Shostakovich Philharmonic, Minor Hall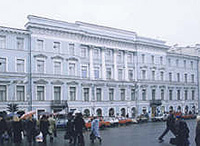 The Philharmonic's smaller audience hall specializes in chamber performances.
The M.I. Glinka Minor Philharmonic Hall is well-known for its chamber music concerts. Both classical and modern pieces are performed here.
It was founded in 1949 in V.V. Engelhart's private home (architect B.C. Rastrelli, 1759-1761, reconstructed by P. Jacquot, 1829-1830). Prior to 1839 the Assembly House of the Nobility has been located in the building, balls and masquerades were held here. Several episodes of M.Yu. Lermontov's drama "Masquerade" take place in Engelhart's house.
Composers such as F. List, H. Berlioz, R. Wagner, J. Strauss, M. Glinka and A. Rubinstein have presented their music here.

Print version
---
Back to Concert Halls Theatres list
Back to All Theatres list