Theatres/Drama/
Baltic House Theatre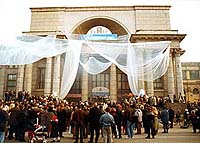 In October 1936 among the famous Leningrad theatres their young brother appeared, Leningrad State Theatre named after Leninsky Komsomol. It was created on the basis of two groups who played a significant role in Leningrad theatre life of the mid-1920ies and 1930ies, they were the Red Theatre and the Working Youth Theatre. In 1939 the Leninsky Komsomol Theatre continued its work already in the new building at Petrogradskaya Side.
The young theatre entered life with the mission to become the center of public thought and culture. The stage directors directed the best plays of modern authors and world classics trying to be aware of all creative novelties and artistic trends. That theatre is the leader, the lover of truth, sometimes a clairvoyant.
The work of outstanding masters is associated with this theatre. V. Kozhin, M. Chezhegov, G. Tovstonogov, R. Bykov, P. Khomsky, G. Oporkov, K. Ginkas, G. Yanovskaya entered some bright pages into the history of the theatre.
The theatre's posters were decorated with the names of the actors who are very famous today: Y. Tolubeev, V. Chestnokov, E. Lebedev, T. Doronina, N. Urgant, O. Basilashvili, Y. Panich, N. Tenyakova, A. Balter, E. Vitorgan, L. Malevannaya, O. Dal, E. Ziganshina.
In 1991 the theatre was renamed into St Petersburg State Theatre The Baltic House. At the same time International theatre Festival "The Baltic House" was founded in the theatre. In the days when cultural ties that took years to establish were being severed between Russia and the former republics (of the USSR), the task to keep those ties became very important. During 9 years more than 100 theatres from 16 countries took part in "The Baltic House" festival. Getting bigger and bigger, attracting more and more significant stage directors' names and theatres, the festival became a cultural event of European significance.
Since 1997 Merited Artist of Russia Vladimir Tykke is the Director of the theatre, whose whole creative life is associated with the Leninsky Komsomol Theatre, today's The Baltic House.
In 1997 in The Baltik House on the basis of the Formal Theatre "The Theatre. XXI century" Center of Free arts was founded, the task of which is the development of non-traditional trends in the art of theatre.
In the building of the theatre beside the main troupe and the Formal Theatre, there's the Farces Theatre under the guidance of Vladimir Kramer, the Experimental Stage of Anatoly Praudin is organized.

Print version
---
Back to Drama Theatres list
Back to All Theatres list