Theatres/Drama/
Buff Theatre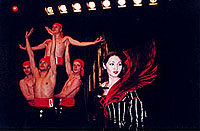 The theatre is founded in 1983 and it continues to follow the traditions of the first Russian "Buff" theatre, which opened in Saint-Petersburg in September 1870. Buff is the most democratic theatrical genre. The theatre has comedies, musicals, dramatic performances, musical shows and variety entertaining shows in it's repertoire. The one and only buff genre theatre has formed a synthetic type of actor, which comprises vocal, dancing and acting skills. Russia's Merited Art Worker Isaak Shtokbant is the artistic director of the theatre. There are Russia's Merited Artists Svetlana Kifa, Yevgeniy Alexandrov, Murad Sultaniyazov, artistic contest winners Mikhail Smirnov, Mikhail Tryasorukov, Vitaliy Zharkov etc, who are within the theatrical company.

The "Buff" Theatre has three stages:
Main Stage - 300 seats,
Mirror Lounge - 100 seats,
Buff-Plus Cabaret - 50 seats.
The Main Stage is the place for shows: "Ideal Husband" by O. Wilde, "Forced to be a Doctor" by J.-B. Moliere, "The Millionaire" by B. Shaw, "Generals in Skirts" by J. Anuille
"Casanova in Russia" and "The Circus is Gone, the Clowns Stay" by I. Shtokbant.
The "Buff-voyage", "Creative Sufferings", "Smirnov-show", "V. Zharkov and the "Golden Ostap" contest winners" variety shows are staged in the Green Lounge and Buff-plus.
The theatre organizes and hosts anniversary parties, academic balls, night shows, presentations etc.
| | |
| --- | --- |
| Address: | 1, Narodnaya Street |
| Subway (Metro): | Lomonosovskaya (Browse map) |
| Tel: | + 7 (812) 446 6767 |
| Fax: | + 7 (812) 446 8300 |
| E-mail: | buff@rosbi.net |

Print version
---
Back to Drama Theatres list
Back to All Theatres list