Theatres/Opera & Ballet/
Mariinsky Theatre
[Show the whole playbill]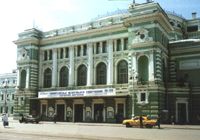 In 1783 the Grand Stone Theatre has been established on the Theatre Square. This date is accepted as the Mariinsky Theatre's foundation date. It is considered second in importance among Russia's theatres, after the Bolshoy Theatre in Moscow.
Ballet, opera and drama troupes have all performed on this stage (the drama troupe has become independent in 1803). The famous Russian ballet dancer A.I.Istomina, to whom Pushkin has devoted poetry, has also danced here. In 1836 M.I.Glinka's opera "Life for the Czar" (or "Ivan Susanin", as it was renamed after the revolution) premiered here, and this event has marked the beginning of classical Russian opera.
The first presentation of a new theatre built on the other side of the square in 1859-1860 was also "Life for the Czar". The theatre was designed by the architect A.K.Kavos and reconstructed in late 19th century under the leadership of V.A.Shreter. It was named after Alexander II's wife Mary. The artistic development of the Mariinsky theatre is associated with performances (often premieres) of operas by the great Russian composers such as N.A.Rimsky-Korsakov, P.I.Chaikovsky, S.S.Prokofyev, D.D.Shostakovich and others, as well as foreign classical composers. The theatre has always had eminent conductors, and the troupe has consisted of world-famous opera and ballet stars such as F.Shalyapin, A.Pavlova, V.Nizhinsky, G.Ulanova and M.Baryshnikov.
Since 1935 until recently the theatre has borne the name of Leningrad's communist leader S.M.Kirov. It has received high national awards. The hall holds 1,625 people, and one can scarcely find any vacant seats at any performance. V. Gergiev currently conducts the theatre's orchestra. The Kirov Ballet troupe, as it is called abroad, is often on tours.

Print version
---
Back to Opera & Ballet Theatres list
Back to All Theatres list