Theatres/Children's/
Children's Drama Theatre "On the Neva"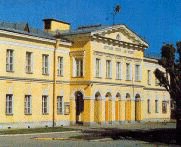 Seven years ago a new theatre studio "On the Neva" with a very specific goal of bringing joy to the youngest viewers was established. After passing through various hardships we have become a state theatre and obtained a magnificient building in the city's centre with a 600-seat audience hall. The hall is always full of youngsters, waiting to see their favourite characters, hurrying to immense into the theatre's magic world. Why does the theatre "On the Neva" offer fairy tales to its viewers?
Fairy tales are among the first things heard by a young child, fairy tale collections are his or her first books. A fairy tale always brings a feeling of happiness. And in our theatre every play has a festival-like quality. They have a strong emotional influence on both the children's and the adult audiences. A viewer wants to fly like a swallow in the well-known tale by H.Ch. Andersen, to begin dancing, to start living, creating and doing good things to the fullest. The good old tales read all over the world are staged in our theatre. Almost all plays are musicals. Great music, unique scenery and costumes, a figure of the Narrator present in every play, that creates a connection between viewers and characters: all of this makes the theatre's plays colourful, intriguing and exciting. That is why these plays are truly needed by children, both big and small.
The plays are characterized by the actors' high professionalism, by their devotion to their profession, by their good singing and dancing techniques, by their bright individual qualities and by the participation of a ballet troupe in every play. The theatre's fanatical work has in a very short time made it a favourite of St. Petersburg's children.
| | |
| --- | --- |
| Address: | 5, Sovetsky Pereulok |
| Subway (Metro): | Tehnologichesky Institut (Browse map) |
| Tel: | + 7 (812) 251 0103 |
| Fax: | + 7 (812) 251 0103 |

Print version
---
Back to Children's Theatres list
Back to All Theatres list