Theatres/Drama/
Maly Drama Theatre - Europe's Theatre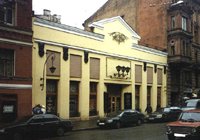 The theatre became known in the 1980s, some 40 years after it had been founded in 1944. Its popularity is associated with its stage director Lev Dodin.
The tickets are always sold out long in advance, including tickets for plays which go on for two days (such as "Brothers and Sisters" by F.A. Abramov, which has received a state award), and those playing for nine hours (like the theatre's three-part superplay "The Devils", based on Dostoyevsky's novel). Since 1956 the troupe has been performing in the building of the former Trinity Theatre (built in 1911 by the architect V.V. Vondeisen). The auditorium holds 460 people, and there is never enough entrance tickets.
The theatre is frequently on tour, mainly abroad, where it also rehearses and stages its premieres.
| | |
| --- | --- |
| Address: | 18, Rubinshtein Street |
| Subway (Metro): | Dostoevskaya (Browse map) |
| Tel: | + 7 (812) 113 2078 |

Print version
---
Back to Drama Theatres list
Back to All Theatres list